Star of the Month "Scarlet Sins"
Last Updated (Tuesday, 05 January 2010 16:49) Written by Steve Parker Wednesday, 12 November 2008 05:55
Infernal Scream got an exclusive interview of Scarlet Sins, an all girl metal band. These hot chicks can blow you away by some mind blowing music. The band earned spot in "Star of the Month" for their amazing music.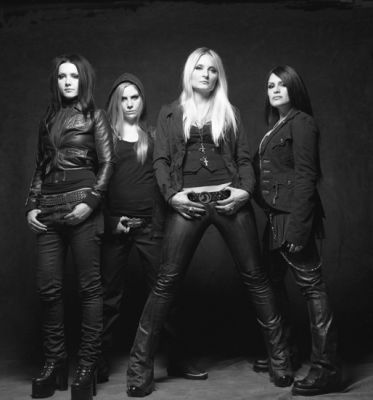 Scarlet Sins
Infernal Scream:
Introduce your band members and their role?
Scarlet Sins:

Sylvya NuVynska - Vocals
Cristina Bishop - Guitars
Tanya Nicklaus - Bass
Elie Bertrand - Drums
Q2) What came into your mind while forming the band?
Cris: I couldn't believe how long it took!
Sylvya: Yeah, trying to find like-minded individuals that had the same goals…obviously people that we can get along with so we can create some killer music.

Q3) How was the response at the beginning?
Sylvya: It's been good.  You get the odd person that doubts the band, then they see us live and we usually win them over.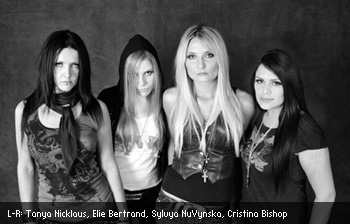 Q4) Any unforgettable moments from your first performance?
Cris: Everything felt like it was in the right place.
Sylvya: I just remember having a great time with the girls and knowing that we were onto something great.


Q5) What role did media played in the band's promotion? Was it satisfactory?
Cris: Media has a very important role in terms of our band promotion and, in today's media, everyone is a journalist with their own blogs, YouTube channels and camera/video phones. Whether it's print or online media, we make new fans every time someone posts an article, video, blog or online review.
Elie: Obviously media is always really important, but other platforms like MySpace and Facebook are also important for promotion. That's how we keep in touch with our fans all around the world. I actually met the girls on MySpace.


Q6) Can you tell us about your current project?
Tanya: Currently, we're writing new material for our second full-length album. It's great to be back in that creative mode again!
Sylvya: If you don't have the first one, go buy one at CD Baby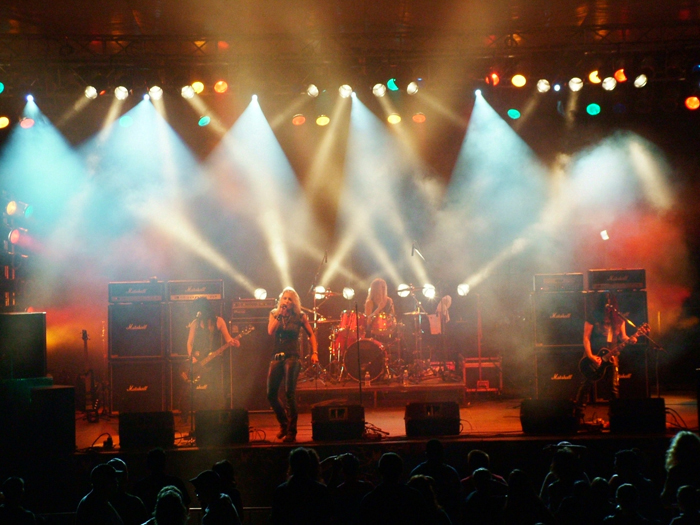 Scarlet Sins on stage
Q7) What are the major influences of the band?
Tanya: Our influences vary from one member to another, but we are definitely all fans of hard rock and metal.
Sylvya: I grew up listening to bands like the Crue, AC/DC, Van Halen, White Snake, Metallica, Alice in Chains.
Elie: …Tool, A Perfect Circle, Nine Inch Nails, Deftones, Lamb Of God, Killswitch Engage… 
Cris: Mine are Metallica, Yngwie, A Perfect Circle, Lamb of God, Tool....I could go on!

Q8) Tell us about your equipment? Any special preferences you would like to share?
Elie: I use Pearl drums and Hardware, Evans Drumheads, Los Cabos Drumsticks, Sabian Cymbals
Cris: I use Seymour Duncan pickups (SH-4 JB Humbuckers/Blackouts) and D'addario strings for my Gibson Les Pauls. I use an Amp Clamp to mic up my Mesa Boogie amp.
Tanya: I use an Ernie Ball Musicman Stingray with Ernie Ball strings and Seymour Duncan pick-ups. As for my amp, I use an Ampeg SVT-3PRO with 2 Ampeg 4x10 cabinets. I also use Amp Clamp to mic my speaker cabinets.
Sylvya: I use a Neumann KMS105 microphone.  The best present I could have ever gotten. I love the way that mic sounds.


Q9) Any tips for upcoming artists who have just started?
Sylvya: Roll up your sleeves and get ready to work hard. You have to be ready to wear all different hats…the musician, the agent, the manager, the publicist, the investor. The way the industry is right now, get ready to do the majority of work yourself.
Tanya: It's a lot of hard work and sacrifice…but it's worth every minute of it!


Q10) Any message for your fans through Infernal Scream?
Cris: Come visit us at scarletsinsonline.com or myspace.com/scarletsins
Sylvya: …and thanks for all your support!  It's thanks to you guys we get to do what we love to do. You ALL rock!!
Exclusive pictures of "Scarlet Sins" opening for Motley Crew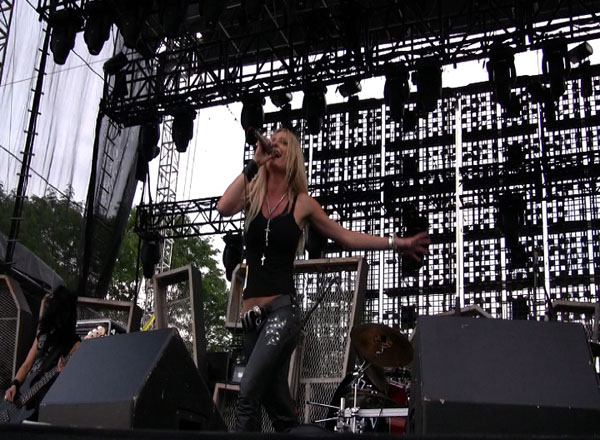 Sylvya NuVynska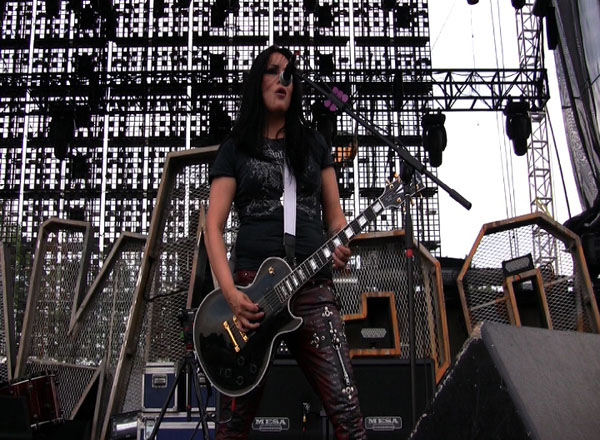 Cristina Bishop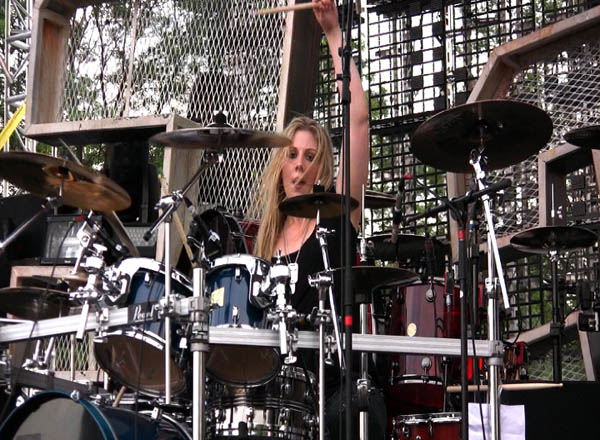 Elie Bertrand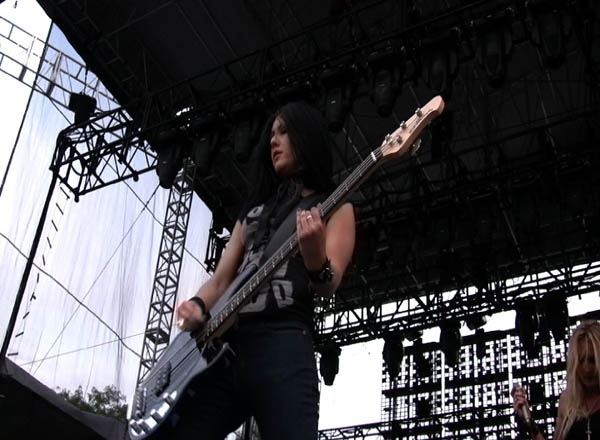 Tanya Nicklaus
Official Website: www.ScarletSinsOnline.com
Interviewer: Ali Raza Farooqui
*The band unfortunately disbanded in November 2009