Star of the Month (Gus Drax)
Last Updated (Monday, 19 July 2010 19:51) Written by Miguel Blardony Tuesday, 18 May 2010 13:24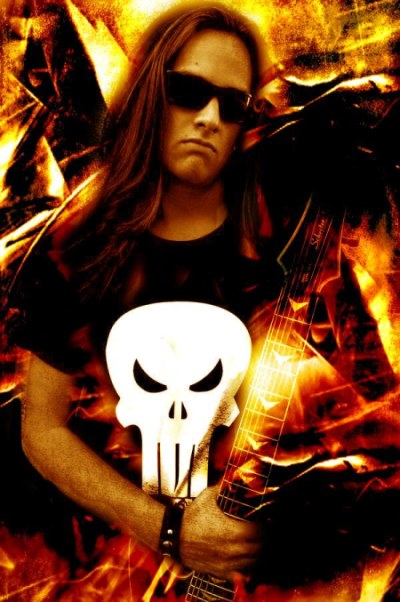 If Gus Drax still isn't considered a guitar hero of titanic proportions, then at least he's well on his way to becoming one. He first made his mark at the fresh age of 19 when he was recruited by Biomechanical's John K to churn out the fiery shreds on the pulverizing "Cannibalized" album last 2008. Today he's not only a mainstay in that band, but also joined the resurgent German thrash quartet Paradox and managed to put together an instrumental album titled "In Search Of Perfection" in his spare time. Speaking to Infernal Scream about what really matters to him, here's the Greek virtuoso on solo projects, mentors, and his favorite part of the musician's lifestyle.
Hello Gus. You've finally got your first solo album out-and you're only 22 years old! What drives you to succeed in the music biz at a time when the music world, especially heavy metal, is so unforgiving, with success reserved for but a lucky few?

Success has many definitions. For someone succeeding in the music industry means lots of money, big houses, expensive cars, and stuff like that. For others it means writing music and expressing his/her feelings through it, because in the end that's what music is all about. For me success is when my music touches someone's soul and makes him have feelings when he/she listens to it. That's my first priority. To write music that someone is going to like. Of course I would like to be able to live off it—and that's something I'm working on—but I don't see the big house and the three cars as success. I guess an apartment would be cool. What drives me to succeed in the Heavy Metal music biz is my love for the music.

So how long has the material on "In Search of Perfection" been in your head? Did you have to come up with 100% fresh material during the preproduction of the album or did you draw from past compositions?

Most of the material is 100% new but there are a few ideas, like the main riff of "Abnormal Sequence," that have existed since I was 18 years old. I started writing material for this album before I joined Biomechanical. Then i took a break from it because I was working for Biomechanical 24/7. A year later, in 2009 to be exact, I found some spare time and I wrote and recorded the album in the studio of a good friend Jon Simvonis who also did the mixing of the album.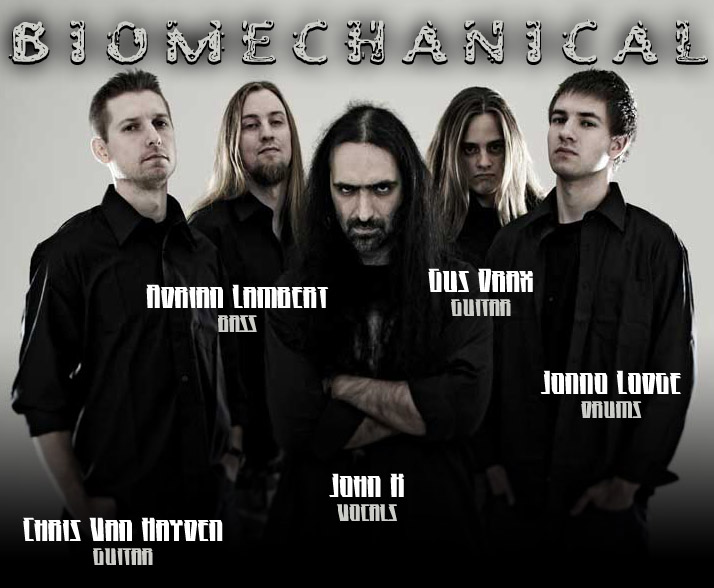 You have some very impressive names helping you out with the music. There's Steve Smyth (ex-Nevermore, Forbidden), Bob Katsionis, Vasilis Liakos, and your producer Jon Simvonis. How did you get all these people aboard for the album?

I met Steve Smyth in Germany in 2008.We became friends and stayed in touch. When the time came I asked him if he wanted to play a guest solo in the album and he accepted. I've known Bob Katsionis for almost five years now. I recorded the first demo of "Vitality" in his Athens studio and he also directed my video clip for the same track. He really made my songs better with his playing! Vasilis Liakos is playing bass in the album. He recorded it in his studio here in Larissa, Greece. We found out that there's a great chemistry between us and I decided to ask him to be a part of the new band that I'm forming. Last but certainly not least, Jon Simvonis did an amazing job with the sound of the album. All the guitars and drums were recorded there and he also did a great mixing. He's also a guitarist and a vocalist and he worked as a "third ear" for me.

You didn't work in one studio though. How long did it take to lay down all the tracks and finally mix the album? What is your work ethic in the studio?

You are right. Like I said before the guitars and the drums were recorded at Jon Simvonis' studio in Athens. Bob recorded the keyboards in his studio and the bass was recorded by Vasilis in his own studio. It took me eight months to do everything, from writing and recording my parts to the mixing of the album. I went inside Jon's studio only once and recorded all the songs. I was composing one song and I recorded it. About my work ethic, in the studio I'm a very demanding from myself. I didn't allow any studio "tricks" to achieve the result you're listening. I played every single note in there.

Since the album was put together in different studios, was there any improvisation or last minute changes that took place while laying down the tracks? How big a contribution did the other guys who played in "In Search Of Perfection" make to the songs on the album?

No, not at all. I didn't leave anything in the air. I worked on every single detail so that I will not have to do last minute changes. Like I mentioned earlier both Bob and Vasilis did an amazing job. They made the songs sound better with their playing. They are both awesome musicians and I'm very happy that they recorded on my album.

You're a shred guitarist, but releasing a solo album means you'll have to be a composer too. You have to balance the technicality of each track with song structure so its impact doesn't get diluted. Did you find this difficult or easy?

I find it easy. I always try to play what the song needs and not play needless shredding parts. In this album I worked on that. When a song needed a shredding solo, I was writing one, but when it needed something more melodic I was writing something more melodic as well.

Since "In Search of Perfection" is self financed, what kind of distribution does the album have? Where can interested fans score a copy?

I distribute the CD personally. Anyone who wants to get a copy should just shoot me an email via This e-mail address is being protected from spambots. You need JavaScript enabled to view it . It's the email I use for CD purposes.

I'm a huge fan of Biomechanical. I consider it one of the few bands who effortlessly blend a concept and great music together. Many have tried this but often fail. What is it like working with John K., who is the main composer of Biomechanical?

John K is a world class musician. I was very young when I first met him, only 19 years old. He had a huge impact on my playing and my personality as well. He taught me a lot of things music-wise and music business-wise. Working with him is always a great experience for me. It's like getting better every single time. But he's not only about work. He's a very funny guy and together with Adrian (Lambert, bass) and Jonno (Lodge, drums) we always have a great time together.

Like I said, I'm a huge Biomechanical fan. Mind if I ask for any news regarding Biomechanical? How's John K and the rest of the guys doing since you last spoke to each other?

Biomechanical are currently on a break. John K is working on his film music stuff. Adrian is also in another band called Son of Science and Jonno is a session drummer in the UK.

Aside from Biomechanical, you also joined the German thrash band Paradox. What compelled you to join another band and how do you juggle your commitment to Paradox and your solo career?

I like to keep my self busy. As a matter of fact these are not the only bands I'm playing. I'm in a Greek band called Black Fate and I also formed my own band recently and we are working on new material. I don't find it difficult to juggle between these bands. All I need is a good schedule and I can easily manage being there for everyone.

In Paradox you played lead to singer-guitarist Charlie Steinhauer's rhythm. How big a difference is there between your playing styles?

Regarding rhythm guitar, I try to get as close as possible to the Paradox sound when playing so I try to have the smallest possible difference. Solo-wise we are from two completely different worlds. But the best thing is that Charlie and I want the exactly same thing for the Paradox solos. So he left me completely free to play whatever I want. I think you are going to understand the difference in the live shows and in the next Paradox album.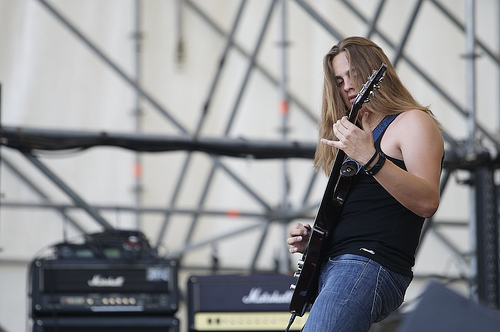 Let's delve into your past a bit. The official bio says watching Dreamtheatre compelled you to learn guitar. Can you even describe the effort you put in to bring your chops to the level it's now in? What was your first guitar?

I can't even remember the brand of my first guitar! It was a 150 Euro thing with some strings on it that I was melting all day long. I was practicing a lot of hours every day. I still do. But that's something that I didn't do because I had to. I enjoy practicing.

Guitar playing must have eaten up most of your time. What sacrifices did you make back then? I'm sure school just went right out the window, huh?

Yeah, I used to practice many hours. However, I finished school as well. Not with great grades or anything but enough to go to university and leave from there when John asked me to join Biomechanical. I don't think I made any big sacrifices as a teenager. I was going out with my friends as well but I just didn't do it everyday. Once or twice a week. So I wouldn't say I had that many sacrifices.

Did you have any mentors who helped refine your style or was it all 100% your own sweat and blood responsible for your current level of musicianship?

Yeah, there is a person that I actually call my mentor. This person is no other than John K, of course. Like I said before he taught me a lot of things and he's always there for me when I need his help or advice.

Wait a minute, are you purely a guitar player or can you noodle around with the drums and bass too? Keyboards?

I can play a little bit of bass and some chords on keyboards. But nowhere near like guitar.

This is the gear question. Please introduce us to the 'weapons' in your 'arsenal.' How old were you when you got your first endorsement?

My first endorsement was my Schecter C-7 Hellraiser and I took it when I was 20 years old. But unfortunately I don't have any cooperation with this or any other guitar makers but I'm working right now to get a full endorsement from a guitar company. I also use Peavey 6505+ amps and some pedals. For my clean sound I use the Boss Super Chorus. For my lead sound I use the MAB Overdrive booster and Line6 DL4 Stompbox Modeler and also Boss Noise Suppressor and Boss Tuner.

I'm pretty sure in the coming years people will mention you in the same vein as Gus G. I mean, the similarities are just too striking! What is it about the Greek metal scene that drives some of its finest musicians out of the country?

Thank you very much, man. That's very flattering. I think that Greece has many talented musicians but until now there aren't the right conditions in place for them to really shine. However, these days you can be in Greece and be a famous musician. The internet has shrunk the distances. Even Gus G., who's the most famous Greek metal musician out there, still lives in Greece.

Between honing your chops, jamming with a band, preparing an album, and playing live, what part of the musician's lifestyle do you enjoy the most?

I enjoy all of them for different reasons. But I would say my favorite one is playing live. I love it. I always have a very special feeling when I'm onstage.

While I don't want this interview to touch on subjects not related to you, I am wondering how the current economic turmoil in your country is affecting you. Are you worried that the state of the Greek economy and its effect on your lifestyle will make your efforts to build a music career harder?

Hmmm... things are going difficult but I don't think it's going to affect my career because my career is not based in Greece. I only live in Greece. Maybe its going to affect my lifestyle but not my career. But to be honest with you I think that the government is not going to put any measures on the Greek people. I think a big revolution is coming.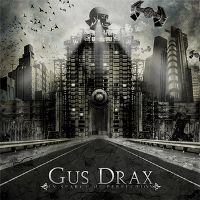 It's too bad this is all the time we have, Gus. Thanks for the patience. Where do you see yourself 10 years from now?

Thank you very much for the interview, man. 10 years from now I see my self in a big stage playing music.