Interview With Singhasari
Last Updated (Monday, 10 May 2010 04:41) Written by Miguel Blardony Sunday, 09 May 2010 17:13
Singhasari is a forgotten South East Asian kingdom long buried by history and the all-consuming march toward modern civilization that has swept the region in the last 100 years. Singhasari is also an extreme metal duo who incorporate ethnic elements—they don't mind calling themselves 'folk' as well—into their imaginative repertoire. Talking to us about culture, music, and his dreams for the band, singer-multi instrumentalist Andika shares his hard earned wisdom in this exclusive feature. For those of you from far flung corners of the world who have yet to hear such a unique voice from Malaysia, consider this interview a window to another world. Promise, you're gonna be spellbound.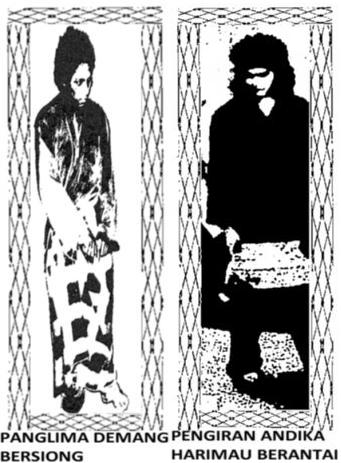 Singhasari is a very exotic name for a metal band. What does it mean?
You think so? Thank you, actually it was taken from the name of the historical kingdom in the land of Java. Singhasari was considered as one of the earliest and powerful kingdom of our Nusantaranese heritage. It has quite a long history which includes how it later evolved and became the kingdom of Majapahit. Accounts of Singhasari are carved in the literary work known as Sirat Pararaton (the Book of Kings).
It's just you and this other guy and you're both dressed in sarongs. What brought the two of you together? When did the 'folk' element become an important aspect of your musical identity?
Yes, there's only the two of us who are 100% committed to Singhasari. The others collaborating with us are all guest musicians. Actually the both of us are already involved with earlier projects before, and we live in the same district and hail from the same clan so it was a matter of our high devotion to our traditional folk music that brought us the idea of creating Singhasari. It has been deep inside of us for so long now.
Despite the distinct, shall we say, Malay imprint on your sound, I can still hear black metal. What was your introduction to extreme metal and why did you choose to become an extreme practitioner yourself?
I experimented using black metal mixed with traditional Malay Nusantara scales and what you hear from our promo is my first endeavor. It's straight forward traditional scales mixed with metal and I wanted everyone (especially those who are not fond of experimentation) to easily accept Singhasari music in the first place, so there goes the second hymn "Rajawali" with a lot of blastbeats and thrash and "Srivijaya" with quite a number of tremolo pickings. I've been listening to metal for quite some time now, though I can't remember when exactly but I was first introduced to heavy and thrash metal. Metallica, Slayer, Iron Maiden were my favorite bands back then. As time went by I started to dwell deeper into the genre, and now here I am.
If I'm not mistaken, Singhasari has an EP to its credit. Where did you go to record it and how much work did it take?
Yes, our upcoming EP is still in the recording process. We recorded our latest hymn "Darah Musuh di Mata Sundangku" and now there are two more hymns left to be recorded. Our new hymns are much longer than our previous effort though, the recording was made at the same studio where we recorded our first promo CD (Seventh Sound Studio), we chose the studio because we wanted to maintain the same sound quality with our previous first release as we will be still using the two same tracks from the promo (with a remix and additional folk instruments to be added in) for the E.P.
What are the topics covered in Singhasari songs?
Our themes mostly deal with longing for our Nusantara ancient days, mythologies, paganism, animism and nationalism. There is even mix of literature and history in our themes.
Has Singhasari compelled you to research the themes of your music? Whom did you read or consult for enlightenment?
I did not have to do plenty of research for Singhasari as the ideas came deep from inside of me, my family, mother-nature, my ancestors. They are all my source of inspiration! Indeed I am also a typical history lover though this subject has been my favorite since my childhood days.
Have you ever drawn on your formal education—what you learned in history classes, for example—to inform the music of Singhasari?
Half of it actually. Ro be frank, the history subject that was taught back in school was 80% altered from the real facts. I always thirsted for additional readings about my history and developed a fondness for indigenous literature. My favorite readings from those days up until now are Sejarah Melayu, Hikayat Merong Mahawangsa, Tale of Ramayana, Hikayat Banjar dan Pararaton, and many others. I even enjoy reading Japanese literature such as Genji Monogatari and Roman historical account such as Julius Caesar along with many other texts.
Do you find yourself attracted to any particular period in Malay history?
I do, yes. I am attracted most of all to the Nusantaranese ancient days, the ancient kingdom of Kataha (Kedah), the ancient kingdom of Srivijaya (Palembang), Singhasari/Majapahit (Java), Langkasuka (Siam), kingdom of Seludong/Maynela (Philippines, hey indeed we are related, brothers of Nusantara!), Champa, and not forgetting the medieval kingdoms of Brunei, Melaka, Sulu, Makasar, and Aceh.
What plans do you have for a first album? Are you still hoping to release it via an independent label or will you handle all aspects of the product?
We do have plans for our first full length but I don't think it will happen this year as too much effort will be needed. We will just concentrate on our E.P release (expected to be out in June 2010 under Hellhouse Production) for the moment, and probably a split release in late 2010; we'll see. Yes probably for the first full length we will still be releasing through an independent label to handle all the pressings and stuff.
Which aspect of being a musician do you enjoy the most: Writing your own music, performing, or working in the studio?
I enjoyed all, but especially the part for writing my own music, it is a kind of devotion in my opinion and I felt compelled to see the result!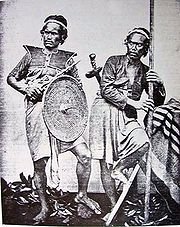 The guys in Singhasari ready for battle.
What is your ultimate goal for Singhasari?
To make known our Nusantaranese culture to the world. This is one of the reasons why we prefer to write our lyrics in our mother-language! Most people already know of European traditional folklore, but Malay and Nusantara folklore to them are too exotic and this is what we strive for!
Are there any Malay folk artists who inspire your work in Singhasari? How about in metal, who are the bands you consider as influential?
I am mostly inspired by the late P. Ramlee traditional folk works (R.I.P for the once great musician!), Jamal Abdillah, Fauziah Gambus, traditional Malay and Nusantara hymns such as Ulik Mayang, Samalindang, Lela Menchanai, Seri Tambak, Seri Langkhat, and many others whose names are not known since they have been buried by time and dusk. I also take inspiration from some European folk/ambient/metal projects and bands such as Wojnar, Piorun and the likes, not forgetting Rob Darken—he's a genius! Hails to Graveland and Lord Wind!
Has Singhasari ever performed in front of a live audience?
We would love to but not in the mean time. It will take too much effort for Singhasari to perform live. My fussy ideas require additional folk instrument and musician to be added when performing live. Such instruments are the Serunai, Barong, and Gong should be available when we perform live in order to provide the right vibe and atmosphere of Singhasari! As for now we will just be concentrating on releasing materials.
Who has given your music its most positive reception so far?
Hahahahaha! I find it hard to recall this as I was spreading our first promo in massive quantities, and I get almost all positive feedbacks. But there were some among my contacts who just kept quiet after receiving the first promo. I guess they were not interested in this kind of experimentation?
Tell me about the metal scene in your corner of the world.
We have quite a big scene here. I guess because people here are easily trend followers. The metal scene in my country has been around since the early 1980s and if you search deeper into the roots of our metal scene you will find plenty of bands, especially beginning in the late 80s (during the mainstream heavy metal plague), and then the underground extreme metal bands of the late 80s (these are the ones you should check out, they are the honest ones!), by the 90s era extreme metal in Malaysia was more focused on black metal and so-called eastern metal (actually clones of Langsuir and As Sahar). It's interesting to see bands everywhere here and there in Malaysia but the thing is there are too many clones and trend followers. Now in Malaysia people are more interested in making their sound as western as possible, so technical and brutal death metal or "war" black metal are everywhere now. Bestial black/death metal is making a comeback again. Whatever it is, it's interesting. Malaysia is not a big of a country, but we have plenty of bands here.
Here in the Philippines we have a thriving metal scene, only opportunities to perform and record are limited, so the bands don't grow creatively by leaps and bounds. Are there a lot of big concerts or festivals in Malaysia?
Paganfire and Deiphago are two names I hear quite a lot from your part of the world. As for Malaysia we have gigs, yes, but big concerts and festivals—not really. The Malaysian government is indeed a little conservative so we don't have big international bands playing here as frequently. There was only Kreator and Napalm Death (twice) who played in Malaysia before and that's all. Others are underground international bands who come here a few times and go. And I remember Abigail, from Japan, used to play here before.
How would you describe life in your hometown? Where I live right now, it's hot. The summer heat is unforgiving. But there's enough music at hand to keep me happy.
Malaysia is the same as the Philippines, tropical climate and all. Though I've never been to the Philippines, I know we share almost the same common culture, that is Nusantaranese culture, thus our traditional costume and culture are almost the same. About my native homeland, I love it! I've been living in PJ (under the region of Kingdom of Selangor) since I was born, and I love the place. I used to stay overseas (the United Kingdom) and back then felt my yearning for my homeland growing stronger each day I was there, hahaha! My native homeland gave me the strength and courage to struggle everyday, despite the people I mostly despise. But it doesn't matter. To me my native homeland is everything! For my motherland!
Are you more of a download person these days or do you still go out of your way to purchase CDs and merchandise?
I rarely download, unless the material is extremely hard and rare to find then I will consider, especially if there is no re-pressing of a certain release. I am more of a cassette collector, this happens because I prefer to listen to cassettes because for one, I get to listen to the cassette until it stops, whilst on CD if the track sounded boring I could just skip to the next track, hahaha! If you come down to my house there's plenty of cassettes ranging from metal to ambient, rock, folk, traditional and even 80s pop. Hahaha!
Despite whatever else you're busy with in your life, do you still make sure to practice and jam with your partner on a regular basis?
Singhasari is a duo so it's not really hard to gather and rehearse. This is why these days I prefer to have only two persons involved in the band, there's no fuss or too much talking, just rehearse and rehearse and rehearse. We practiced and rehearse once a week. Whenever I compose new hymns I will let Panglima Demang hear the track at my house and then we will go to the studio for rehearsal. It's really easy to cooperate and communicate since there are only two serious persons in the band.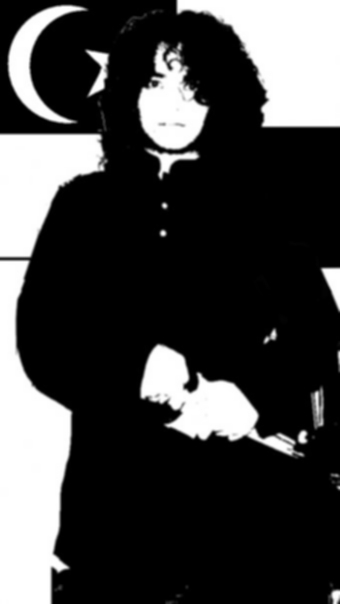 Which of you has the more diverse tastes in music?
Me and Panglima Demang listen to wide variety of music, doesn't matter if it's cult or not cult or not metal at all. It's just plain music anyway. Influences mostly come from me. But Panglima Demang is a genius and a very creative fellow. He recently experimented with these weird drum strokes for Singhasari and I simply quite adore what he has done, so to speak.
I'm afraid this is it for now, Andika. Thanks for the patience and the consideration. What are your other plans for Singhasari this 2010?
Thanks for the interesting and refreshing interview! I was answering this while at work though, hahahaha! Our plan for this year is to release a decent material and let people know what exactly NUSANTARA FOLK METAL is! Behold the rise of our ancient Nusantara kingdom!!!