Interview with Elie Bertand
Last Updated (Sunday, 24 January 2010 16:56) Written by Steve Parker Sunday, 24 January 2010 16:15
Infernal Scream has always been in hunt for new talent and we are lucky to find some amazingly talented people. Elie is one of them, an extremely talented drummer. I don't have to say much as her drums speaks for herself. So here is her exclusive interview with Infernal Scream Magazine.
Q) Elie Welcome to Infernal Scream. As a child, what went through your mind when you started?
A) Heeeeello friends! :) Thank you so very much for having me, I love you guys! I felt in love with drums before I could even read and that just never went away. Music was everything, still is and will always be the most important thing in my life.
Q) What was the name of your first band you worked with? What was it like?
A) I played in a bunch of school bands and played with friends all through high school but my very first professional band was called Kumeerfuraminut ("come here for a minute"… don't ask how that came together… I don't even really know) and we were a classic rock and blues cover band. It was SO much fun. I learned SO much with those guys.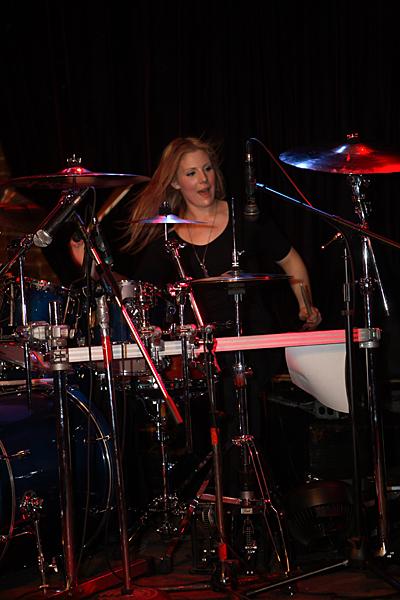 Q) Who were your favourites at that time?
A) That's so hard to answer because there are so many. I grew up in a very musical house. Rick Astley and Whitney Houston were my two favourites… My parents were big on Uzeb and The Police and I really loved them too.

Q) Did you find it hard to make up into the music scene being a girl? Its unusual to have a metalhead girl.
A) Well being a girl, I don't know how it is to be a guy in this world. Ha! I just do my thing and have fun with it. I do the same things as boys, only with blush and eye liner.

Q) How does it feel when you walk on stage in front of a huge audience?
A) I still get really nervous regardless of how many people are in the audience. 5 or 15 000 people, you'll always find me back stage jumping around trying to keep my cool 15 minutes before going on stage… But as soon as the first note resonate, it turns into a big party!

Q) Why do lineups change over the years, when the basic direction of every artist remains the same?
A) You know a band is just like a relationship but with more people. You hope it's forever and ever but sometimes it doesn't happen this way. People change, personally and artistically and that's just the way it's suppose to be. It's sad and tough when bands breakup or someone leaves of course but I like to think that things always happen for a reason in life.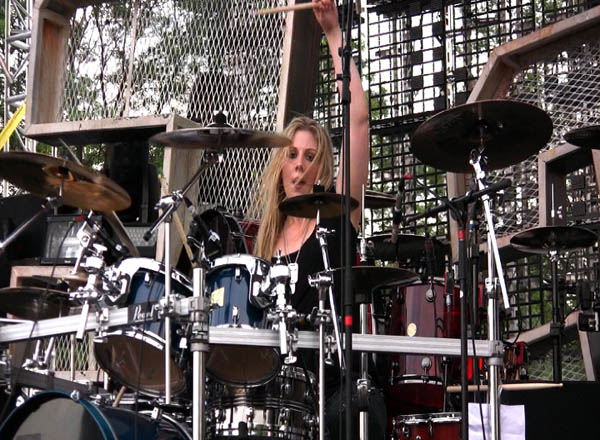 Q) Tell us something about your recent projects? What are you working on these days?

A) I just recently moved back to Montreal and I have been playing a lot music as a freelance on a bunch of projects, recording and playing live. I'm having a blast! But I can't hide that I really miss being in a band, so I'm working slowly on putting together my own little thing. Stay tune, I'll have more details to share soon. :)
Q) Tell us something about your equipment?
A) Ha ha, that's always my favourite question. I LOVE gear!! I play a black sparkle Pearl Reference 6 pieces drum kit and it sounds AWESOME. The seize are a little out of ordinary snare 14 x 6.5,  rack toms 10 x 9, 12 x 10, floors 16 x 16, 18 x 16 and the bass drum 22 x 20. For cymbals I use Sabian cymbals. I change my setup all the time but my favourite "Rock Out Loud" setup would be a 18" AAX X-Plosion Crash, a 19" AA Medium Thin Crash, a 20" Dark Crash, a 22" HHX Legacy ride, an 18" HHX China, a 10" HHX splash, a pair of 14" AAX Metals hats and a pair of AA Rock hats. For drumheads I use Evans' G2 Coated all over the toms and snare and a EQ3 for the kick, EC resonance for the toms and an EMAD for the kick. And last but not least I've been playing Los Cabos drumsticks for the past 4 years now and they are just awesome. I am so grateful to have support from all those companies, they've been so supportive and so awesome to me. I really am lucky to share my passion with them.


Q) Any tips you would like to give to young girls who want to play drums?
A) Do your thing, have fun with it and kick some ass. If you have fun and believe in yourself, nothing can stop you!

Q) Any message you would like to convey to your fans out there through Infernal Scream?

A) Thank you very much for all the support and the love. You guys are amazing. You make me smile every day. I promise to share all about my new exciting projects. Stay in touch, I'll keep you in the loop! :)
You can find me there:
www.twitter.com/ElieBertrand
www.youtube.com/ElieBertrandDrums
www.facebook.com/ElieBertrandDrummer
www.myspace.com/ElieDrummer
And coming real soon
Peace all!
Interviewer: Ali Raza Farooqui