Interview With Society's Plague
Last Updated (Monday, 21 February 2011 19:33) Written by Miguel Blardony Monday, 07 February 2011 01:04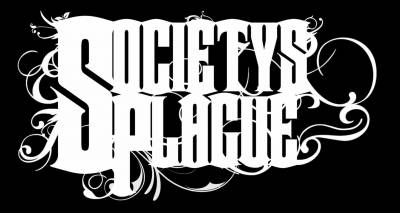 Society's Plague exploded onto the scene in 2010 like a ninja fart, silent but fully capable of making their presence felt among unsuspecting metalheads. Such is the case on their impressive debut "The Human, The Canvas"; an album that harnessed Euro death metal elegance mixed with prog complexity and powerful lyrics. Currently burning up dates for their Wintour, which wraps this month, Society's Plague have made an effort to get in touch for extra publicity. In this exclusive interview, guitarist Joe Roger gives a recap of the career defining adventure that has been the past twelve months the band spent touring nonstop across the U.S.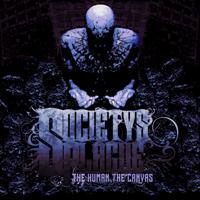 Hey Society's Plague! How's it going? Which member of the band do I have the pleasure of bothering?
Joe Roger: Hey, it's going great. I'm Joe, and I am one of our guitarists.
What's up bro? (Ha! I called you 'bro'.) Tell me about the new and upcoming Win Tour. Society's Plague are demons on the road, how is it going to be different this time?
JR: Well, we don't know the final details yet. But this time we have a professional booking agent setting up the tour for us, so we are pretty excited about it. In the past we would book it our selves and work with small regional promoters to get the shows, but now we have someone booking everything directly. So this tour should be a blast.
I just called you guys road demons. That's awesome! Honestly now, can you give a short history of Society's Plague on tour? How much travelling has the band endured this 2010?
JR: We have been tackling the East Coast and Midwest a lot in the past to develop a good following we are already doing great in states KY, OH, IN, IL, NE, TX, TN, and we are looking to really expand that with "The WinTour".
We had been asked to play Dirt Fest 2010 in Michigan unfortunately it was cancelled, we will be playing SXSW in 2011 and have had some huge tour offers already for next year. 2011 sounds like its going to be amazing.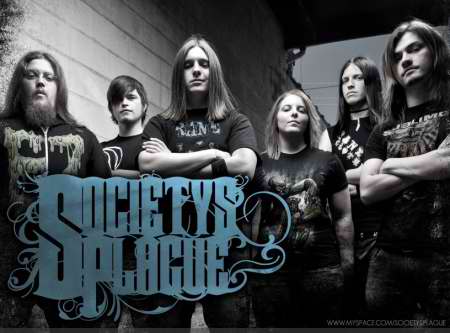 Society's Plague has opened for so many national acts. What have been the best concerts you ever played so far?
JR: Yeah, we've opened for some amazing bands! I think my personal favorite was when we got to open at Music As A Weapon Tour. After our set, our merch booth just got flooded with people and I think we sold about 50 CDs in under three minutes; it was crazy. Other then that its hard to pick one we have played with, Chimaira, In Flames, Unearth, Killswitch, and tons more they have all been great.
Is there still extra feedback on your first album you'd want to share? What have been the best and worst receptions it has received so far?
JR: The good feedback far out weights the bad, we had a review come back that we received a better score then the new Soilwork album which was amazing to even be compared to them.
I think my two favorite quotes about the album so far are:
"Slabs of layered melodic metal with unexpected twists and turns, sophisticated structures and extraordinarily impressive vocals…I'd much rather listen to this than the last few records by, say, Soilwork or Killswitch Engage" - Decibel Magazine (7 out of 10)
"The Human The Canvas is violently sublime, like a Buddhist monk attaining Nirvana while being fed through a rusty wood chipper." - DRUM! Magazine
It seems to me that the couple criticism's we received were from reviewers that just hate Metalcore/ Melodic Metal in general so the album didn't really get a fair chance. One review said: "It seems that melodic metalcore should turn into a horror movie series. No matter what, it just will not die." But if you check the Fan rating on the same review 89 users rated the album 5 out of 5, but everyone is entitled to their own opinion.
I'm sorry man, but I just gotta ask this. It's for the sake of our readers. Can you go back in time to the beginning of Society's Plague? Who met whom?
JR: We'll I started a band back in high school that Roger who is now Society's Plague guitarist, ended up joining. Society's Plague was named by our original vocalist.
But then we really didn't do much as far as playing shows for the next four years or so till our current vocalist Matt joined Society's Plague.
After Matt joined and we had a stable lineup we started to play a lot of local shows, which started to turn into big crowds for us and it has just grown from there, and we plan to keep it going.
So how much did the line up bond and grow together from your first EP "The Mercy Untold" until the release of "The Human, The Canvas" via Stand and Deliver records?
JR: We have had this line up since we recorded the EP, so now we have all worked together to put out an EP, the full length and have gone on a few tours together. With spending all that time together in the studio, and in small ass van we are all good friends and now how to push each others buttons too, but getting together to write and record "The Human, The Canvas" really solidified use as a band and helped us all realize that everyone was in it for the long haul.
To be honest, I've listened and been listening to "The Human, The Canvas" for months. No big deal since it's part of my job. What continues to impress until now is the songwriting. Has Matt (Newton) been writing cool stuff recently?
JR: Thanks. It's always nice to hear people say they are listening to our stuff. We've all been working on some new concepts and ideas lately for second release.
So when we are ready to go back into the studio, we all think the next album is going to be a big improvement. We've learned a lot since then and are looking forward to working a lot of new but still uniquely Society's Plague things into our music.
Yeah, so I've broached the subject of new material. How much roadwork is still ahead before Society's Plague sits its ass down to put together a second album?
JR: We are really looking to tour for all of 2011 before we get back into the studio, but that doesn't mean some new tunes wont be out for our fans in the mean time. (Hint Hint Wink Wink.) One thing that we felt like we did with the last album was rush into it. Next time since we will have more time, we are going to take our time and really let the ideas flow. We also have the time to write songs, play them live a few times and decide if we want to rewrite a few parts or not, we didn't really get that chance with "The Human, The Canvas."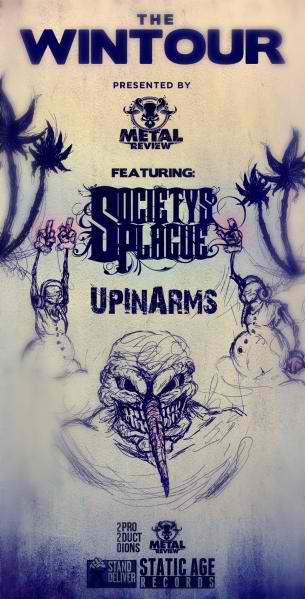 At this point, does the band have a clear idea of what will make album number two radically different but still consistent with "The Human, The Canvas"?
JR: Yeah, I think we have a pretty clear idea of where we want to go with the next album. We really want our new material to sound like a continuation of "The Human, The Canvas" since we have had such a great result with it, but the new songs will be more epic, melodic and heavier than "The Human, The Canvas."
What kind of day jobs keep the different members of the band occupied outside their musical commitments?
JR: Matt, JD and Mike all work in retail and get told they look like they should be in a band which is funny as hell. Kate works at a restaurant. Roger is a professional welder and I work for an online advertising company.
Does Kate find any of you guys gross? Since there's a girl in the band, does she have to be one of the guys all the time or is everyone respectful of each other's personal space?
JR: Yes, there are quite a few times when I'm sure she does find us gross, hahaha! However we are all pretty respectful of each other's personal space. We joke around and play pranks on each other and stuff, but at the end of the day everyone is respectful towards each other.
Oh right, personal space! Please be 100% honest here. What are the ups and downs of being with the same people 24/7 on tour and travelling from one gig to another?
JR: Well since we are all friends and see each other at practice a few times a week as well as play shows all of the time when we aren't on tour, we are pretty used to each other.
There's really not much of a problem being with the same people 24/7 for us, its more of living out of a van 24/7 that takes its toll.
Since we've gone back to touring questions, I'd like to know what type of vehicle does Society's Plague use and if there's a bottle tucked under the seat where everybody pees in.
JR: We use a Ford E-350 Super Duty and your typical touring van to pull our gear. There are always empty bottles under the seats just in case but we usually just tell whoever is driving to pull over at the next gas station or rest stop. Nobody really wants to drive around with that warm, fresh pee smell combined with a bunch of people cramped into a van; it just makes for a bad drive.
When you're on the road, what kind of things do you eat? Do you ever miss home cooked food?
JR: More than anything, I'd say we eat a lot of Taco Bell. You can get a burrito, a drink and chips for $2, can't really get a better deal than that. We are all in our 20s, so we honestly don't eat a ton of home cooked food anyway, hahaha! But you do miss the option of being able to while on tour sometimes.
What happens to dirty clothes you accumulate on tour? Have you ever borrowed someone's underwear? Don't worry you don't have to name names.
JR: I can't speak for everyone, but I put my dirty clothes just at the bottom of my duffle bag that I take with me, then the clean ones on top. If we are lucky enough to stay at someone's house that we know in the area, we will borrow their washing machine to turn some dirty clothes clean. Otherwise, we might find a laundry mat or stop at a cheap hotel that has a coin washer about once a week or two, and we are able to take showers.
Since Society's Plague has a solid work ethic when it comes to touring commitments, have you guys earned a following already? Is there a group of people who you notice in attendance every time you're onstage?
JR: Yes, we have a pretty big following not just all over the country, but all over the world. We generally find that in areas that we play more than once we start seeing a lot of people come back the second time.
Then in our hometown and the cities around us, we have quite a few regulars that will come to pretty much all of our shows. We've also become friends with most of them as well. We love all of our fans and they tend to love us back too, haha!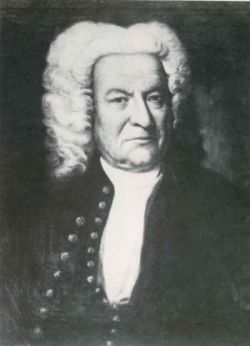 What kind of music do you listen to…a) on tour b) at home c) when you just want to enjoy music?
JR: I listen to pretty much the same music all of the time and it doesn't matter what I'm doing. Some of my favorite artists include Insomnium, Suidakra, In Flames, Alestorm, Ensiferum, Elvenking, Killswitch Engage, Bach (yes, the classical guy) and a ton more.
Does anyone in the band like eating fruit? What's your favorite? Mine are bananas.
JR: Uh, yeah, I'm pretty sure we all enjoy most fruits. I like to take some Raspberries, blend them up with some yogurt and peanut butter, it makes an awesome smoothie. I can't vouch for the rest of the band but I know they eat fruit too.
That's a wrap bro-man. Thanks for the cooperation and the patience. The new year is a month old. What do you want to achieve personally and as a member of the band come 2011?
JR: Thanks for taking the time to interview me and let me talk about Society's Plague. I think really the best resolution personally and for the band is to grow our fan base, keep touring and making our fans rock at our shows.