Interview With Theophagy
Last Updated (Friday, 17 December 2010 15:52) Written by Miguel Blardony Thursday, 16 December 2010 03:49

Theophagy (www.myspace.com/theophagyofficial) are that rare progressive death metal sextet from the American heartland destined to be the forerunners of a new trend. Rather than peddle the same symphonic dross as Abigail Williams or settle for the mindless deathcore along the veins of Whitechapel, Theophagy prefer to blaze a trail all their own with music that's intelligent and complex. By releasing a self-titled first album independently this year Theophagy have taken the first crucial step to carving a niche in the often convoluted American metal scene. Talking about his band, keyboardist Brian Rush shares some insight into the organism that's Theophagy.
Hello. This is Miguel and thanks for having me. I love hearing about new bands, especially when they've just released a first album. Now tell me who has given your debut the best reception so far?
Brian Rush: Thanks for the interview Miguel. So far, we have no idea! Our previous fans were impressed, the internet seems to enjoy us, and people who bought the CD have always responded positively. However, I have noticed that people who live outside of the United States tend to have a better understanding and appreciation for it. I'll tell you who has given it a bad reception though; old people and preteen girls.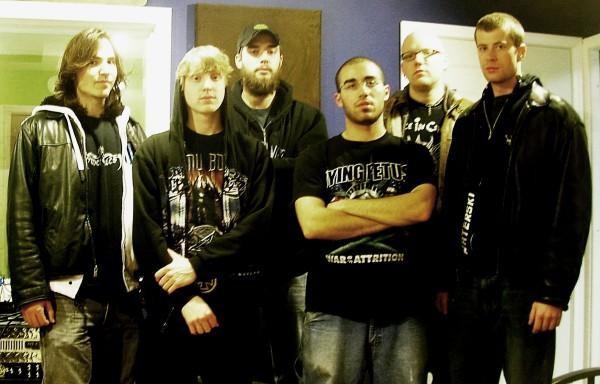 Tell me what it's like, bro. I mean self-releasing an album. When did the band begin writing songs? Where was it recorded and which places did you go to for printing copies?
BR: We started writing in the summer of 2007 and we finally recorded in the winter of 2009-10 at Voltaic Recording in Zionsville, IN. The engineer there had just finished working with The Contortionist and Draekon, so he was really prepared for our style of metal. We sent it off to Discmakers in the dirty jerz to be printed.
How can curious Metalheads out there score a copy of your first album?
BR: The best way to obtain a physical copy is to message us on Myspace or Facebook. We're selling them for US$10. You can find other copies at a few obscure online distros. Amazon, iTunes, and Cdbaby all have downloads for the same price.
Now let's dwell in past history a bit. How far back did the six of you know each other? When Theophagy was born, who met whom?
BR: Rem (Roberts, drums) and Alex (Tonkovic, guitar) had been in a prog-metal band called Sacred Relic for a while. One day, Rem became possessed and started running around yelling with a gas mask on. This caught the attention of Arek (Varjabedian, guitar) who decided that being in a band with someone who was possessed sure beat being in a band with normal people. Shortly after, those three met Jared (Thompson, Vocals) at a party where everyone was puking from the cheap alcohol. About a week later, I met Rem, Alex, and Arek at a burger eating contest (I didn't win, just puked a lot and was a lethargic mess for the rest of the week). After going through some bass players, we finally settled on Dan Dugard about a year and a half later. He had played in a band called Deus Ex Machina from Singapore.
How often have you performed your songs in front of a live audience? What kind of venues does the band usually play in?
BR: We play live quite a bit in the Illinois/Indiana area, in small venues and houses. Houses are the best: no rules, no waiting around, and people go nuts. However, we do know how to rip it up at the occasional larger show; coming up are shows with Warbringer, Gorgasm, Keep of Kalessin, Psycroptic, and Pathology.
Tell me more about the local music scene in Chicago. I believe Lair of the Minotaur is from there, right?
BR: The Chitown scene is very cool. I haven't been able to keep up with Lair of the Minotaur since high school, unfortunately, but hopefully we'll bump into them down the road. We most frequently play with Narrow House, a group of thrashers from Lafayette, Indiana. We've only been loosely incorporated into the scene in Chicago since we practice in Indiana, but I would have to recommend Malas, Avernus, Cardiac Arrest, and Johnny Vomit as great Chicago bands.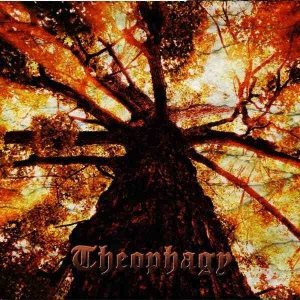 The charmed first album. Theophagy love trees.
Aside from Theophagy gigs, do you still catch shows on a regular basis? Gone to see any great concerts in the past few weeks?
BR: Arek and Dan have been going to a lot of electronic and hippie shows lately, Wuhnurth, Bassfest, etc. We've all seen Umphrey's McGee numerous times and I recently saw Enthroned, Destroyer 666, and Pathology in Chicago.
You guys hail from the Windy City. Which part of Chicago does each of you call home? Ever crash into each other's cribs for pizzas and bromance?
BR: Actually, only three of us are from Chicago; Rem and Alex grew up in Cook County and Arek grew up near Lincoln Park. Jared is from Southbend, Indiana, I'm from Philadelphia, and Dan is from Singapore.
I should've mentioned band practice as well in the previous question. What's practice like for Theophagy? Is your practice space also your writing space?
BR: We practice in a place called the Suicide Dungeon, which is our current house in West Lafayette, Indiana. It's a really old place and someone hanged himself in the coal room. There has been talk of a ghost here by visitors but I haven't bumped into him yet. Practice for us is problem solving; people bring their ideas and we blend them together as best we can. Some writing is involved, but most of it happens on our individual time.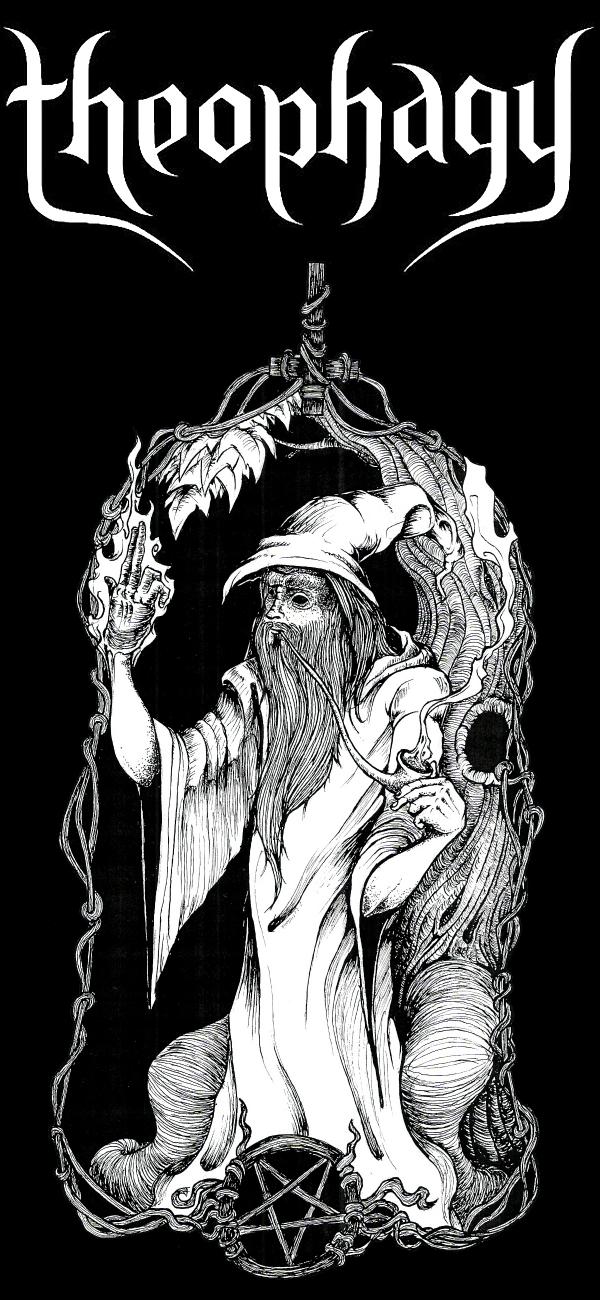 With a first album under your belts, what lies ahead for Theophagy this 2010 and 2011? How soon will it be before the six of you are writing again?
BR: We haven't stopped writing since we recorded the album. We have plans for an EP as well as an album for 2011. The EP songs are very diverse, and range in styles from Emperor, to Cancer, to Iced Earth and many more.
This is the gear question. If I bothered to check, what kind of weapons will I find in the band's armory?
BR: Rem uses Mapex drums, Sabian cymbals, and Iron Cobra pedals. Alex uses a PRS and a Line 6 Spider II. Arek uses a PRS and an Ibanez stack. Dan uses a Fender Jazz bass and Behringer cab, and I use whatever the heck I can get my hands on (Yamaha for practice and so far, a heavy duty Roland for recording).
Who would you consider your role models when it comes to music?
BR: We all come from different schools of musical thought, but some of the main ones would be Opeth, Dream Theater, Spawn of Possession, Alice in Chains, Dying Fetus, Bathory, Nocturnus, and Unexpect. In my opinion, it's helpful to have role models in terms of developing skill, but if you want to be truly creative, ditch your role models and write what comes from you exclusively.
I'm listening to so many bands these days I'm surprised my brain hasn't exploded from sonic overload. Which albums are you enjoying at the moment?
BR: Earthless "Sonic Prayer," Bal-Sagoth "Atlantis Ascendant," Mork Gryning "Mork Gryning," Necrophagist "Epitaph," Agalloch "Pale Folklore," Immersed "In The Ire Of Creation."
Considering the changes that have swept American society in the last couple of years, what makes you optimistic about the future?
BR: I'm optimistic that more people will die in greater numbers so we can conserve our resources and enjoy the world for what it is.
On the flipside of that, what makes you afraid about the future? If I were asked this question, I wish that the progress made in global commerce and the diversity of regional economies doesn't suddenly grind to a halt. I want to build a career outside my country, you see.
BR: As you can probably guess from the last answer, I'm afraid of overpopulation. We waste so many resources and destroy so much natural habitat. We spend money and resources on keeping weak humans alive. As Emerson once said, "Man has built himself a coach but has lost the use of his feet." I know I'm living off of that coach; I should be dead.
What are you most passionate about outside of music?
BR: Partying. It's criminal how much awesome partying goes on over here.
I think it's time for a little self-debasement: How come so many extreme/br00tal metalheads find it hard talking to girls?
BR: Probably because they haven't listened to Crotchduster and Skinless yet.
Is social networking a modern day disease? Are you too kvlt for Facebook, like me?
BR: No way! It makes it 100 times easier to promote shows, stay in touch with metalheads for the future, and find new music!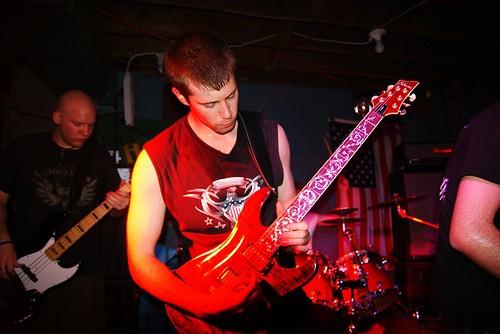 If you could be anywhere on Earth right now, where would it be?
BR: The wilderness of Romania hangin' out with Negura Bunget.
Unfortunately this is all the time we have. Thanks for the patience bro-ham. If I ever visit your hometown, will you show me some of the nice places to eat over there?
BR: If by places to eat you mean delivery pizza and kegs at the Suicide Dungeon, then yes!