Trans-Siberian Orchestra – A Dream Comes Alive
Last Updated (Tuesday, 30 November 1999 09:30) Written by Steve Parker Friday, 25 June 2010 15:13
The long line outside the Washington DC Warner Theatre gradually filled the seats inside. There was a constant, excited murmur among the audience as everyone patiently awaited the all powerful presentation of Trans-Siberian Orchestra's Beethoven's Last Night. And so the lights dimmed, the audience hushed and Beethoven's Last Night came to life. . .
To try to put into words the power, the beauty, the brilliance of all that occurred on stage is impossible. From the start, Brian Hicks' narration captured the audience and led us into the story that Paul O'Neill and his creative team so meticulously wrote ten years earlier. The strength of Hicks' story telling skills was highlighted by an extremely talented group of musicians, guitars, bass guitars, violins, keyboards, piano, drums. . . So, in midst of sounds, colors and lights, this beautiful story, where love, fantasy and torment come together in the life of one musical genius, Beethoven, Paul O'Neill's dream is brought to life. All those present enjoyed the stunning voices of each and every one of the singers who brilliantly characterized Beethoven, Elise, Fate, Mephistopheles among others.
A few days after experiencing TSO's brilliant on-stage production of Beethoven's Last Night, I had the opportunity and pleasure to speak with Al Petrulli in what turned out to be a pleasant phone interview. I discovered that behind the talented guitar player stands a modest, intelligent and kind man with a clear view of what is important in life. And so here are his words. . .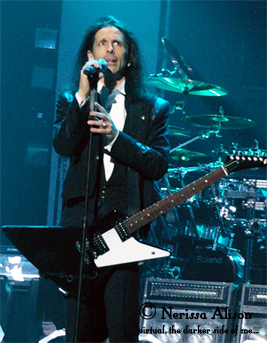 Nerissa: Given that in most shows, I get to see the organized chaos of the sound check with much smaller bands, how is the backstage and on stage two, three hours prior to the show?
Pitrelli: Kind of boring. At this point in time, two hours prior to the show, sound check is over, everybody had a bite to eat, and you are sitting down, waiting for the time to go by and get to work. I mean me, that's when I do my exercise, I go for a walk. You know, it's like you have those two hours to really focus and concentrate and prepare. In the smaller buildings it's a lot of fun because you're on top of each other in the dressing room areas. But it's not like anything you think, there's not a whole lot of anything going on other than really preparing. It's a grueling show, both mentally and physically, so you do the best you can, and after three or four weeks it gets a little boring, a little tedious, but, you know, it's part of the job and I'll take it.
Nerissa: And how is sound check?
Pitrelli: By the time we start running our drills, it goes by pretty dandles, we all kind of know what we are supposed to do, we are a very good bunch, we want to get there and get out so everyone can have their quiet time before the show.
Nerissa: Going on to you, given the great guitar player you are, why is it that you've taken so long to be a lead guitar in a band?
Pitrelli: Why did it take me so long?
Nerissa: Yes, because for many years you've been playing for other bands but never sticking with any. . .
Pitrelli: Uh-hu. Well, over the years, basically, you start out as a kid guitar player, you know, playing in bars, playing in different clubs and then the word of mouth kind of gets people to start talking about you, being in a good light or a bad light. Then somebody will hire you to play guitar, maybe a show, maybe a demo, and that leads to tours, to records and to other things. So I started out just doing a whole bunch of sessions, you know, working for this band, working for that band, different bands over the years. So, it was more about making a living and being happy that I was playing guitar. The idea of being in a band didn't really work out for me early on, you know, once I was earning a living I didn't want to go backwards. So, I was OK with that until I met Paul O'Neill when we started working together on different record projects, and he asked me if I wanted to get involved in this idea he had which later on became The Trans-Siberian Orchestra. So, I've been with Paul over sixteen years in this particular project and I don't' consider myself a lead guitar player or any guitar player, I just consider to be Paul's right hand musically, along with Jon Oliva and another guy named Bob Kinkel, Dave Wittman, our engineer, so the five of us try to complete these records together. And I'm enjoying the fact that the American people and now the European community are really starting to embrace it.
Nerissa: OK, since you are talking about the whole creative group, how does the creative process work in TSO?
Pitrelli: Well, Paul comes up with an idea or a concept for a rock opera with a storyline that he has. Then he'll say I want to hear some ideas, I want to hear some riffs, or he'll have some sort of idea and throws it out in what we call the kitchen table in this apartment of New York. It's basically a democracy at that point where somebody will start an idea and we'll pass it around and everybody tries to add their own personality, their own ideas and all of the sudden, at the end of the day, you have a song or the framework of a song and Paul kind of catalogs them and picks a song according to his storyline and casts the singers and the characters accordingly. So it's a little bit different writing to a traditional rock n' roll album but at the end of the day, it' s a bit more rewarding to say the least.
Nerissa: When Paul first approached you with this huge idea of his, what went through your mind?
Pitrelli: I thought he was insane (light laughter) Yes, the idea of fusing together an orchestra and a heavy metal band in 1995, I thought it wasn't going to work, because if you think of the climate of radio at that time, the grunge move was in full sewing, all different styles of music, all except heavy metal. So I didn't feel that there was going to be an audience for it. But, at the same time, I was just so in love with his music and his concept and the fact that we were doing Tchaikovsky, Beethoven, Mozart, and fusing it together with guitar playing and some over the top rock ensemble sounds, I said it doesn't matter to me if it sells or not, it's just going to be a real enjoyable project for me and I'm being tested as a musician. So on a personal level, I thought it was great. In a business level I thought, well, nobody's going to buy so what does it matter. Fortunately, I was proved wrong.
Nerissa: So how do you feel nowadays, after all, TSO is getting bigger by the minute, how does it make you feel?
Pitrelli: I don't pay attention to it as weird as that sounds. It's kind of like with one of my children, you watch them born and you are kind of amazed all the time. You watch them grow up, but you still have to remain a parent, you know what I mean? You are still a disciplinarian, you are still a caregiver, a breadwinner, all those clichés that go along with fatherhood. So TSO was something I watched born back in 1995 and '96, and the fact that it's fourteen or fifteen years old, I can't feed into its popularity. I just have to keep my eye on the integrity of it, on the honesty of it, on the quality control, and then, every so often, I kind of look up and go, "Oh my God, all these people in this arena are really enjoying this music!" And then, immediately, I have to look back down because if I start paying too much attention to the alkaloids involved, I'll forget to keep my eye on the ball and my job is to make sure that Paul's vision stays accurate at all times. If that makes any sense, you know what I mean?
Nerissa: Yes, I can understand what you are saying.
Pitrelli: At my age I'm not going to get caught up in all the traffic of vanity. Twenty-five years ago, it's a different story, I'm going to be fifty years old, so now it's like I'm going to enjoy the fact that I have a job and I'm going to keep it.
Nerissa: Now to another question. I usually ask individual members to describe the rest of the band. However, dealing with TSO's numerous members, this is mission impossible. So, I'd like you to describe the creative team members, including yourself.
Pitrelli: Well the trick with the creative team is that each one of us comes from a completely different background musically. OK, say about myself, who comes from a pretty aggressive background but I'm well versed and well educated in classical music, jazz, R&B, Motown, and all that stuff. Our engineer Dave Wittman has mixed everything from Jimi Hendrix, Led Zeplin, Billy Idol to Foreigner and everything in between, you know, he's just a legendary producer. Paul O'Neill is so well versed in everything, he's frightening. Bob Kinkel is really knowledgeable when it comes to classical music. And John Oliva is one of the key writers, who is the founding member of Savatage, who doesn't necessarily have an education background in music, he really doesn't understand much of what he does, but he's one of the most brilliant composers I've ever met and worked with. So, it's a very unique combination and that's probably why the sound of TSO is so diverse and different.
Nerissa: OK. How does this lifestyle, a musician's lifestyle, affect your personal life? You are on tour with your wife, the other night your children were at the show, but, how does it affect your family life?
Pitrelli: I try not to let it affect my family life because I try to keep everything we refer to as church and state. You know, at home I can enjoy my personal time and do whatever it is I do when I am not working, but when I am at work, I am at work, and it's this whole time job twenty-four hours a day. So I never let the two overlap. That's the discipline I've had to acquire over the years because once you start erasing the line between your personal feelings and your professional feelings, you are going to get into trouble and with the amount of responsibility Paul entrusts me with, I don't have the luxury of crossing those lines too often. So, when we're at work, we're at work. And that goes for everybody, I've been working with some of these people for over thirty years and we grew up together, we bled together, we cut our teeth together (soft laughter) we've worked our way up through the clubs together, but, when we get to work out here, I'm not your friend. It's the same thing like my analogy with children, I'm not your friend, I'm your father. Out here, I'm not your friend, I'm your boss. And I think that by separating the two, people know that they are at work so let's behave accordingly because you don't want me getting in your face about anything. It's my Napoleon complex, I'm a little guy but big mouth, you know, Italian from Long Island, that whole thing (laughter).
Nerissa: Which would you say is your most memorable moment with TSO.
Pitrelli: Probably the first show we did in 1999 at the Tower Theater in Philadelphia. We had no idea what to expect with our audience, the community that started to embrace us with our recordings. We booked the first tour in seven or eight cities, we really didn't know what to expect. I remember walking out on stage and seeing a kid with a Megadeth t-shirt sitting next to his grandma with a crochet layered sweater on, and, you know, it scared the living Jesus out of me because you don't know whether to turn up, turn down or run. Again, it's kind of like giving birth, all of the sudden, here we are and there are a couple of moments you feel terrible, you don't know how things are going to go. Fortunately it's turned out pretty good so far.
Nerissa: For you, which would you say is your most personal TSO song?
Pitrelli: (Pause) Probably Ornament of the first record because when Paul and I were recording that we couldn't find a voice that would capture Paul's story. We both had a mutual friend, Tommy Faresse, that I grew up with. Paul said, "I need a blue collar worker who is going to make this song come to life." I said, "Paul the only person on the planet who could sing this is Tommy." And when Tommy came in to sing this, he got behind the microphone and started singing it, immediately it came to life. It was magical. I said, "You know, we are onto something with this record. This is going to be OK."
Nerissa: Anything you'd like to add to this interview.
Pitrelli: I don't think so. I mean, you saw the show in DC, you know we jumped off the deep end of the pool trying something new and I hope that you enjoyed it. I know our friends in the TSO community are coming out and they're about as curious and nervous as we are. It's kind of funny when your audience is a little apprehensive as well, not knowing what to expect. So this is a new chapter for us, it's what we are calling rock theater, it's a new genre completely and I'm excited! You know, it's nice to do something different and I'm getting to tour the original thirteen colonies which I haven't been up this way in almost ten years. If anything, I'd like to thank everybody for believing in us and coming out and giving us a chance to do something new. It's a lot of fun, it's terrifying but a lot of fun.
Nerissa Alison