Trivium-Shattering The Skies of Manila (February 13)
Last Updated (Tuesday, 01 June 2010 17:45) Written by Miguel Blardony Tuesday, 18 May 2010 11:58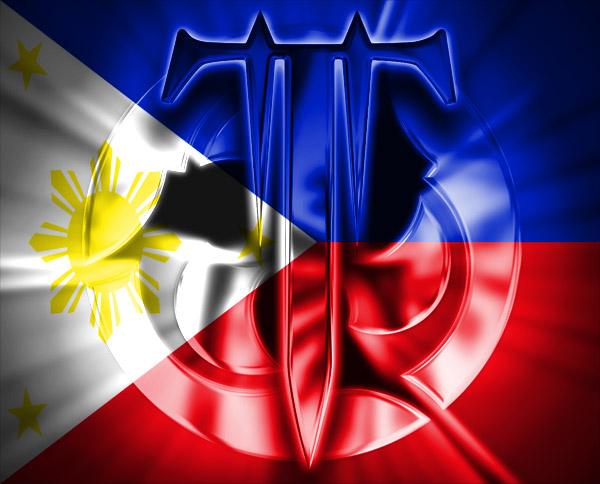 The evening was off to a dispiriting start once a pathetic trickle of ticket holders filed into the cavernous venue. The stage, reminiscent of an altar piece, was magnificent to behold, even with Pegasus strung above the drum riser. Now why put a statue of a flying horse way up there? Feel free to blame the concert promoters, Pulp magazine, whose past antics include a gargantuan Eddie-esque figure towering behind Shadows Fall's stage during their March 2008 concert and a giant bat decked in smoke when Archenemy graced a local venue last October. So Trivium gets a winged horse this time? Pretty gay.
Even gay-er was the totally butt-fucked opening act Valley of Chrome who performed an inhibited three song set before exiting with their dignity intact. Disappointing, that. Worse, the venue still wasn't holding a capacity crowd. Thank ye infernal gods for the copious amounts of rum coke given free to all VIP ticket holders who clustered across the stage front like lemmings. Keep in mind alcohol staves off depression.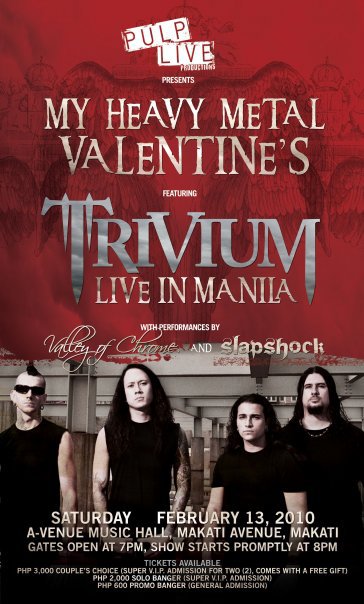 The country's preeminent nu-metal champions came next and when they were done with their less constipated but still addled five songs—intrigues were definitely afoot that night, intrigues beyond this writer's comprehension—roadies of every stripe cluttered the stage and a massive curtain fell to shroud their various doings.
The clock ticked forever and endless adverts for Dickies—one of the event's bigger sponsors—looped on the widescreens flanking the stage. The coffin shaped print out that's the ticket set 8:30 as the kick off but Trivium embarked on their crusade much later. Thankfully, matters had taken a turn for the better as the indoor population had thickened several hundred bodies deep, a mass whose cigarette smoke wafted to the ceiling and formed a thick chocking cloud of noxious fumes. Since heavy metal performances demand that band's always rip it live in grand [dramatic] fashion rather than just walk onstage and rock, the speakers blast the gentle piano notes of "The End of Everything" as an overture to "Rain" from Trivium's "Ascendancy" album.
As the intros orchestral touches inspires goose bumps and churning digestive juices the opening riff of "Rain" suddenly exploded across the venue and it was like a match meeting a tinderbox. Musically speaking that is. Trivium are in fine form, even if they come dressed in your usual metalhead uniform of jeans, black shirts, flying V's, and long hair (except for Paolo and new drummer Nick Augosto). Their predictable stage apparel aside, Trivium easily breezed through such raging numbers like the brooding "Kirisute Gomen" and "Ascendancy" despite the awful mix of their instruments that often reduced the twin guitars to static mush compared to the seismic bass notes from both Paolo and Nick. This particular flaw often ruined a lot of choice moments in Trivium's jampacked set that borrowed heavily from their "Shogun" and "Ascendancy" albums. The lowest moment came when Matt cranked open "To The Rats" and nobody recognized the song until the chorus came around.
Still, Trivium that night buried whatever the haters may claim the band are. FYI, Trivium are a seasoned live unit. They perform with equal amounts finesse and aplomb. Despite the expected gruffness, it's pure charm, especially Matt who couldn't suppress his nice guy demeanor no matter how many f-bombs he punctuated his between-song-banter with. There was even one moment when he got the whole crowd screaming 'fuck' at the top of their lungs. It was cathartic. Like taking a dump, except using your mouth.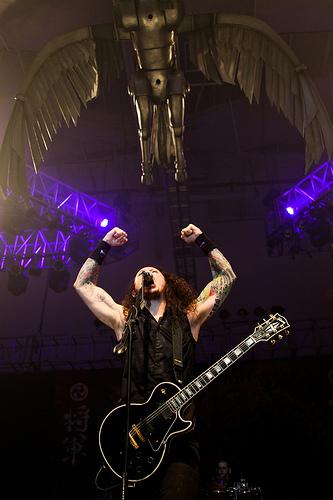 Damn you, Pegasus!
The hour long show's highlights were many, from witnessing the new Trivium song "Shattering the Skies Above" played for the second time only since the quartet launched their Asian tour in Indonesia, to a rare cover of Sepultura's "Slave New World," and finally the back to back encore of "A Gunshot To The Head Of Trepidation" and that timeless interpretation video hit "Pull Harder On The Strings Of Your Martyr." Trivium rent the blackened heavens, people sang along till their lungs burst, and this writer swung his hardboard guitar (an uh, cardboard cutout of a real guitar) with reckless abandon in the midst of a boiling moshpit. By concert's end, 'twas twilight. Gotterdamerung. The long expected orgasm after the endless labors of turgid lovemaking.
By the time the band finished throwing away the obligatory sticks, skins, and picks as a farewell gesture, most in attendance streamed outside to savor the afterglow. Oh, and that Pegasus hanging above the drum riser? It moved a bit during the encore then shot lasers out of its eyes. Gay.
Not Trivium though. Seeing them live was an experience to be hella proud of. Manly too, cos the moshpits were intense in a hardcore dancing kinda way. If Trivium ever return, you bet your scrony ass this writer is coming back for seconds.