PULP Summer Slam X-Testament and Lamb of God (Holy. Fucking. Shit.)
Last Updated (Tuesday, 01 June 2010 17:35) Written by Miguel Blardony Tuesday, 25 May 2010 17:49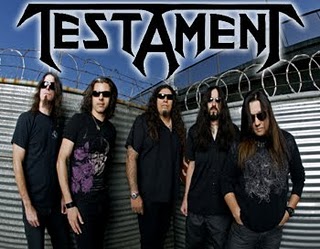 Since 2001 the people behind the music magazine Pulp organize a yearly music festival called Summer Slam where the local scene's best known groups perform in front of a massive audience. It's a day long affair that stretches from lunchtime till the following morning, usually held in May and usually blessed with an endless supply of beer. This time around however, it was April 17 and those present were ravenous. The venue of choice for such a massive spectacle was the Amoranto Sports Complex, a sprawling stadium that could seat several thousand but managed thrice that number for this year's "The Apocalypse," a special event featuring Testament and Lamb of God as headliners.
Let's now skip the dozen odd serious Filipino rock acts since this writer is exclusively concerned about the headliners. Not to dis the homegrown talent since they've earned both respect and success against the odds, but plain 'rock' was never this writer's cup of tea. Heavy Metal rendered live has always been an awesome sight to behold, especially in an open air venue with 30,000 similarly inclined punters ready to mosh at a moment's notice. The moshing did happen, but that's for later. Arriving at dusk, the gates of Amoranto were still crowded with people (not to mention littered with garbage) even if the show had been underway for several hours. With tickets torn and freebies waiting to be claimed (a free sim card, pizza slice, Pepsi bottle, glass of beer, condoms, etc.) yours truly reached the general admission area (basically the whole stadium ground in front of the huge stage) to behold the rapturous throng anticipating the headliners.
Skipping a million trivial details leading up to ½ of the night's big event, Testament didn't come onstage until past eight. This after almost an hour of prep time where the roadies set up gear and tuned the band's instrument's to perfection, only for Greg Christian to get into trouble with his bass later on. So much for Filipino efficiency. Anyone who appreciated the Bay Are thrash band's last three releases—"First Strike Still Deadly," The Gathering," and "The Formation of Damnation"—would have found themselves well catered for as the quintet launched their set with "Over The Wall" and churned out the galloping "More Than Meets the Eye" before "Practice What You Preach" stunned the audience into rapt submission. To be honest, the crowd didn't receive the veteran thrash band with as much passion as Lamb of God. But then again, if you loved Testament, you'd be left more than satisfied by a set that included their best material (except from the "Low" and "Demonic" albums). "Souls of Black," "Three Days Of Darkness," the edge of your seat riff-fest "The Persecuted Won't Forget" and the steamroller that's "DNR" where Chuck Billy's roar finally cracked and he sang in a less ferocious register.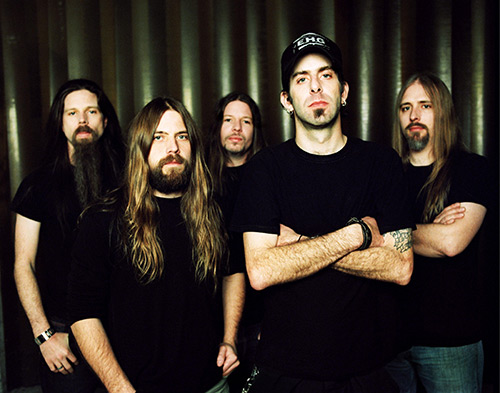 Lamb of God's turn came at almost midnight when they launched their set with "In Your Words" after the soothing notes of "The Passing" fired the mood for their own forthcoming devilry. It's at this point where a few thousand warm bodies, already sweating from sheer anticipation and having to vent a small amount of their scarcely repressed excitement by throwing bottles at each other half an hour prior, exploded in circle pits that boiled throughout Lamb of God's performance. Virginia's finest were in lean form as they effortlessly delivered such classics as "Laid To Rest," "Walk With Me In Hell," and "Now You've Got Something To Die For." Randy Blythe in particular was extra fearsome as he growled the lyrical vitriol with the same intensity as his studio output. In fact, the effort to maintain his performance level was so intense, Lamb of God would take short breaks every two songs. People didn't mind though. After the physical toll of constant moshing, they got to catch their breath and ready themselves for the still oncoming salvo.
Playing an hour-plus set whose reciprocal audience participation created a pall of choking dust when thousands of feet beat the hard packed earth into submission, Lamb of God reached their encore in great shape. Though ragged-looking as ever (this scribe wouldn't be surprised if bassist John Campbell turned out to be the dad of Willy and Chris Adler—the dude is frikkin' old!) Lamb of God delivered all-guns blazing even if the live mix occasionally let them down. As they broke into the grooving chords of "redneck" a mammoth circle pit came alive and hundred of flailing bodies collided while Randy sang about American truck drivers. Such brutal rites paled in comparison the violent reception enjoyed by show closer "Black Label" where numerous walls of death collided across the packed venue (there were so many people, the organizers finally allowed hundreds to flood the usually closed bleachers). A savage ending marked the climactic orgasm that cheered Lamb of God's departure. The whole experience was timeless. For Filipino metalheads who once dreamed of such occasions, witnessing Testament and Lamb of God share a stage shall forever remain a treasured memory.