Havok-Time Is Up
Last Updated (Wednesday, 16 March 2011 14:25) Written by Miguel Blardony Thursday, 03 March 2011 02:04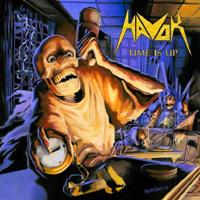 Release Date: March 29, 2011
Label: Candlelight
Genre: Thrash Metal
Rating: 7/10
Comments: Thrash, thrash, and more thrash.
Once upon a time many moons ago, four young studs infatuated with thrash were promising enough to get signed by Candlelight Records. The fruit of this consummated love affair was a well-received debut album titled "Burn" that has yet to be heard by this writer. A couple of years hence Havok now unleash "Time Is Up" as proof that they are more than just scene kids; in fact, they want to tear you a new one with their fiery brand of thrash metal.
If you are the type whose fuel is thrash, then Havok are the perfect choice for energizing your life with more than a few tunes crackling with electric fury. Although theirs is a tried and tested musical style, the band's youthful energy and passion for excellence shine amidst the maelstrom of familiar ingredients. Keep in mind that for a modern thrash album, "Time Is Up" rounds more than a few wheels and revisits the usual clichés (call them thematic staples if you will) that come natural to the genre.
One of those everlasting thematic staples is war and its many ravages. This is what occupies "Prepare for Attack," a suitably martial hailstorm of buzz saw riffs from lead axeman Reece Scrugg swirling amidst a backdrop of jackhammer percussion from Joe Webber. Anyone who has worshipped at the Altar of Venom, Slayer, Death, Mercyful Fate, and latter day albums from Heathen, Exodus, and Megadeth ware in familiar territory when absorbing "Time is Up." If its opening salvo is anything to go by, the album burns at a red hot pace.
Perhaps the only drawback when listening to Havok is they reek so much of vintageness, a quality that gets tiresome when there are so many other exciting albums to enjoy just three months into 2011. Still, if thrash is what your heart desires, brace for the impact of such delectable cuts as "The Cleric," the midtempo joyride "Killing Tendencies" that's destined to become a crowd favorite, and the incinerating "Scumbag In Disguise." Those desperate for an adrenalin shot of supersonic speed should stick to the album's slickest cuts, namely "D.O.A." the title track at the end, and "No Amnesty."
From its silly horror cover art to the deft songwriting, "Time Is Up" is as solid as they come. Too bad it's not alone in a prolonged season of impressive thrash metal albums.