Vicious Rumors-Razorback Killers
Last Updated (Wednesday, 16 March 2011 14:25) Written by Miguel Blardony Thursday, 03 March 2011 02:02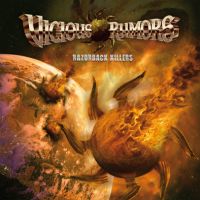 Release Date: March 28, 2011
Label: SPV/Steamhammer
Genre: Heavy Metal
Rating: 9.5/10
Comments: Let The Garden Burn.
Vicious Rumors have been a silent but deadly force in the American metal underground for the last 30 years. Unlike so may of their peers in the San Francisco Bay Area scene, the band never fell by the wayside or surrendered to radio friendly whims. Through lean times and tough stretches Vicious Rumors managed to grind out a consistent discography that is oft overlooked but rewarding to discover and relish. Two years since their last collection of melodic meltdown, the San Fran quintet return for "Razorback Killers" that's a thoroughly ripping listen in the grand style of Judas Priest, Metal Church, and perhaps a classic thrash band or two.
That's the secret ingredient of Vicious Rumours; where others in the melodic spectrum soften their approach to an excruciating degree, Vicious aren't afraid to mix it up and stir their technical fancies with a generous helping of aggression. This is immediately heard on the present material's opening salvo "Murderball" which shall bring a smile on the face of anyone who thinks piercing screams and razor riffs are the best starters for a great day. "Murderball," however, is just a warm up and as warm ups go, the best is yet to come. The next slew of tunes swings pendulum like between frantic firestorms of fiery ferocity to thumping mid-tempo affairs laden with dark mood. Among the former are the excellent headbaning anthems "Blood Stained Sunday" and the title track "razorback Blade" that stelas the crown from the soon retiring Judas Priest. Oh yes, Judas Priest. Vicious Rumors owe an artistic debt to the Metal Gods and perhaps fans may endure the eventual departure of the Priest after the Epitaph tour with fervent hopes that Vicious Rumors are the ones who adopt the mantle.
Musings on a metal heritage aside, "Razorback Killers" is the type of album that leans more on the aggressive stuff ut still leaves enough room for an oddball track or two. To get the mentions out of the way, the slower songs on the album are "Black," the brooding "Pearl of Wisdom" that's actually quite riveting diversion," the heartache and heartbreak of "All I Want is You," plus the joyous metal anthem you won't be afraid to scream out loud "Let The Garden Burn." As a slab of heavy music "Razorback Killers" is the shit. In the name of all that's metal and holy, buy this album.