Rudra-Brahmavidya:Immortal I
Last Updated (Wednesday, 16 March 2011 14:25) Written by Miguel Blardony Thursday, 03 March 2011 01:57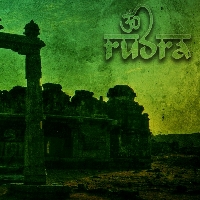 Release Date: March 3, 2011
Label: Sonic Blast Media
Genre: Vedic Metal
Rating: 8.5/10
Comments: The closing chapter of an immense musical outpouring.
Since death metal has already gone down so many directions, it comes as no surprise that Rudra put a lot of effort into standing apart from the usual by going way back for inspiration. Inspiration for the guys in the band is the Vedic age of ancient India, a time long forgotten and never revisited except by philosophy students wanting Oriental intellectual succor. The whole and sum-total of Rudra are the intricate and brain-hurting texts contained in the Vedas; so as not to reveal the extent of his own ignorance, ths writer suggests that curious minds read up on these wonderful ancient documents via Wikipedia. Or get in touch with the band here. Google their previous interviews too for exta discussion on the topic.
Anyway, as the title of the Singaporean quartet's latest indicates, "Immortal I" is part of a series. The concluding chapter in a trilogy, to be specific. Does this make it sound conclusive? Stupid question, that. To appreciate "Immortal I" to its fullest extent requires a familiarity with Rudra''s past work—there's a review of their last album from 2009 here. But if you're intent on sampling this album without prior knowledge, it's best consumed as the final entrée in a multi-course meal that involves an appetizer of Morbid Angel followed by a good dose of Nile and some Mesopotamian charm via Melechesch. Top it off with Behemoth, a little Atheist, and your favorite Death. When Rudra comes last in this chain of hearty aural dishes, their often complex music becomes a lot more palatable.
It's actually useless to compare old Rudra with this new album since the consistency is so seamless, it feels and sounds like the same record extending itself across another 6o minutes. This is exactly the case once the opening stretch of songs here get underway. The previous album "Brahmavidya: Transcendental I" (a sequel to "Brahmavidya: Primordial I") bid farewell in a blaze of glory laden with grim atmosphere. "Immortal I" carries on in the same mnner, it's ferocious, exhiliarating, and laden with the same grim atmosphere that darkens this otherwise philosophical treatise rendered unto music.
For ultimate enlightenment and gratification, go ahead and dig the songs that teach and preach like "Ravenous Theories of Deception," "Incredulous Void," Harrowing Carryons of Syllogism," and the two-part climax "Hymns of the Immortal Self" that's followed by "Advaita Smaraya." Rudra's music is so compelling, it might change your life.