Jag Panzer-The Scourge of the Light
Last Updated (Wednesday, 16 March 2011 14:23) Written by Miguel Blardony Thursday, 03 March 2011 01:49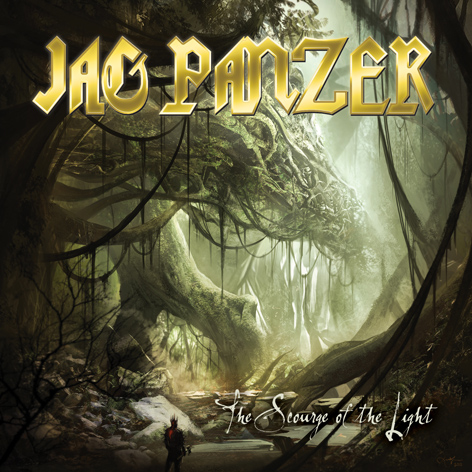 Release Date: February 28, 2011
Label: SPV/Steamhammer
Genre: Heavy Metal
Rating: 8/10
Comments: Couldn't have arrived sooner.
There are just some albums that are a pleasant surprise when they come to your attention. Such is "Scourge of the Light" from Jag Panzer, a band whose conspicuous absence from the scene had more than a few metalheads wondering why they quit the game at peak form. Of course Jag Panzer never quit, simply making the most of a long break that compelled longtime guitarist Chris Broderick to do a stint in Nevermore that paved the way for his career-defining acquisition by Megadeth. Chris is conspicuously absent on this album and his fluid guitar work is sorely missing from the present material. Taking his place is Christian Lasegue who does more than a good job of filling in the departed Broderick's shoes.
Absentee guitarists aside, the other guys in the band are once again combining their powers for a diverting 50 minutes of vintage Jag Panzer. At first listen "Scourge of the Light" may come off as a bit mellow but this is a curious false impression removed by repeated plays. All the hallmarks that defined Jag in their halcyon days—either the late 80s or early 00s depending which past albums you adore—are present and accounted for. The deft guitar flourishes, the narrative sweep of the lyrics, and the peerless vocals by Harry "The Tyrant" Conklin are in grandiose form throughout "Scourge." Conklin deserves more than his fair share of the spotlight because if it weren't for his unique vocal style steeped in Bruce Dickinson and Ian Gillan the song s on this latest Panzer release wouldn't take off.
"TSotL" launches on a rip roaring trajectory with "Condemned to Fight" that's overtaken by an even more excellent follow up "The Setting of the Sun." Just two song s in and the eager listener is reassured that nothing is amiss in the Jag Panzer universe. The hooks are present and accounted for, the songwriting has matured well beyond plain cheese, and the music itself is precisely executed. Also, there's the Tyrant on vocals, whose every lyrical enunciation is cause for wonder. But the best the album has to offer occurs a few songs in, beginning with "Bringing on the End" and improving by leaps and bounds once the soaring "Union" gets underway. True to the form and spirit of most power/heavy metal albums, "Scourge" wraps with an immense epic "The Book of Kells" which simply bleeds epicness—don't miss it.