Helstar-Glory of Chaos
Last Updated (Wednesday, 16 March 2011 14:23) Written by Miguel Blardony Thursday, 03 March 2011 01:44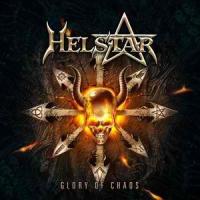 Release Date: February 8, 2011
Label: AFM Records
Genre: Thrash/Heavy Metal
Rating: 9/10
Comments: Now! Your houses are buuurniiinnnng…
Helstar are in the best shape they've ever been since rejuvenating their careers with the hellish comeback "The King of Hell" three years ago. Further proof is the current material "Glory of Chaos," which will tear anyone's misgivings to shreds upon first listen. Oh yes, shreds. There's a lot of this on the album from the Larry Barragan and Robert Trevino duo, who unleash the infernal dueling stuff with utter ferocity. For a band that most would lop into 'power metal,' Helstar prove they've got the guts and the grit to stand above and apart from the fairy magic. Theirs is a blend of the extreme and melodic that few bands today can accomplish. Just try the opening track; "Glory of Chaos" wastes no time with the usual boring niceties so when "Angels Fall to Hell" barges in it's pure chaos, a combination of Kreator evil and Death in their Sound of Perseverance heyday with Judas Priest Painkiller vocals that are snarled with alarming frequency.
If the opening salvo doesn't hook you in right away then perhaps the album will take more than a few spins to endear itself. However, "Angels Fall to Hell" is only a first taste and there's mucm much more beautiful music to come like its follow up "Pandemonium" or the utterly inane cheese of "Monarch of Bloodshed." The listener will have to forgive Helstar their cheesy transgressions. Sure, the quintet can be brutal like the best of 'em, unfortunately the same praise can't be spread over their choice of lyrical content, which is nihilistic in general and rather corny on occasion. ("Dethtrap"?) Setting aside such petty nothings, "Glory of Chaos" is a stellar piece of work, loaded with aggression and burning with righteous scorn on most of its running time. The best the album has to offer are in the middle: "Summer of Hate" is pure headbanging gratification, "Anger" is conry but okay, "Trinity of Heresy" is a certified brutal cheeseburger, and "Alma Negra" is beyond words. A sonic firestorm with an almost death metal vibe.
The real gems on "Glory of Chaos" shouldn't e overlooked though. At the end of the day, it's singer extraordinaire James Rivera, Larry Barragan, Robert Trevino, Jerry Abarca, and Michael Lewis who execute this MOFO with utter precision. Helstar's latest has already been out in Europe for months and hopefully the band's stateside audience smartens up about this severely underrated band.