Lazarus AD-Black Rivers Flow
Last Updated (Wednesday, 16 March 2011 14:22) Written by Miguel Blardony Thursday, 03 March 2011 01:35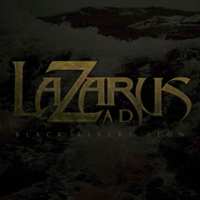 Release Date: February 1, 2011
Label: Metal Blade
Genre: Thrash/Groove Metal
Rating: 9/10
Comments: An unexpected fist in the nuts.
This writer can still recall when he first read about Lazarus A.D. in a press release a couple years back. The band had a debut album coming and their label wanted the appropriate buzz to herald its release. For some reason or other the first Lazarus A.D. album went under the radar though other metal journos received it with open arms.* Unlike a lot of bands launching their careers, Lazarus A.D. got most of it right the first time around. Where the untalented multitudes who try the same just plain suck as they grope to find a sound, Lazarus A.D. were comfortable with the groove-thrash style they embraced.
A further refinement of the quartet's musical inclinations is what greets us on "Black Rivers Flow," a very welcome sophomore release form a band whose straightforward approach to songwriting places them at the forefront of the American metal scene. That's no fatuous claim—to love this album should come natural to any Metalhead with an ear for melody, aggression, and a whole lot of grit besides. The album kicks off to a grooving start on the invigorating opener "American Dreams." To be put off by Jeff Paulick's vocals (he also plays bass) is tempting, but would be mistaking the forest for the trees…the trees for the forest, or something. (Trying to sound smart when reviewing albums is hard.) The point is while he's far from the gruff he-man singer better suited to the band's thrash foundation, Paulick does a fine job anyway and it would be stupid to knock on his performance. He's great on this album.
So are the rest of the guys, be it the Dan Grapen-Alex Lackner guitar duo or percussionist Ryan Shutler, who keeps the rhythm section away from boringness cos blastbeats are too easy and Mr. Shutler prefers working on a broader palette, blahblahblah…the long and short is "Black Rivers Flow" is a kickass motherfucker of an album, full of heavy riffs, boiling aggression, Machine Head grooves, and guitar solo's that are akin to lava semen spurting inside your ears. That's right, lava semen. Lazarus A.D. know their metal, and so should you. Ergo, go ahead and dig this album and spread the word among your friends.
*A common occurrence in the narrow world of music journalism where the work revolves around albums received and bands given publicity. There are just so many of both it's impossible to cover them all.