Evergrey-Glorious Collision
Last Updated (Thursday, 03 March 2011 01:44) Written by Miguel Blardony Monday, 07 February 2011 00:38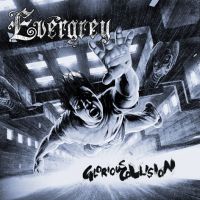 Release Date: February 25, 2011
Label: SPV/Steamhammer
Genre: Heavy Metal
Rating: 8.5/10
Comments: A breath of fresh air.
Evergrey have been gone for quite a while now. Just when the world almost forgets about them permanently, singer-guitarist Tom S. Englund helms another intoxicating effort that places the band way ahead of most "power metal." In fact, to call this album (and Evergrey for that matter) power metal would be slightly misleading. It's simply Evergrey music. Emotional, passionate, even tender, but laden with so much heft, it sits well next to the more visceral bands in the Swedish scene. The troops in the band aren't all veterans either; the long break between their last album almost five years ago was the result of Evergrey taking a much-needed hiatus, then Englund decided on recruiting new blood to sustain his vision for Evergrey.
Thanks to Englund's drastic measures, that vision remains intact. "Glorious Collision" belongs up there right next to the finest Evergrey in the quintet's past decade of music. The curtains open with the melodic meltdown "Leave It Behind," which is a remarkable example of what to expect from the ensuing material. Sure, there are dreaded keyboards, but what Richard Zander adds to the band's repertoire is so tastefully done, it hardly clutters the sonicscape. The keyboards on this album are just extra flourishes for that delicate touch of ambience so important to the Evergrey aesthete. As always, the everlasting joy of the Swedish quintet are the riffs, which crunch and twine on the 13 meaty offerings here. Englund has found a suitable partner in Marcus Jidell; the two of them might not always deliver face-melting fireworks, but the occasional leads are sheer perfection.
The virtues of the different members aside, "Glorious Collision"'s most remarkable feat is the songwriting. The stuff here is introspective and heartfelt, more so the farewell tandem "I'm So Alone" followed by "…And the Distance," an inclination probably best descried as Tom Englund's signature since he is the beating heart of the band. The syrupy juices continue to swirl on "You" and is followed y this writer's personal favorite 'Wrong." The ensuing tracks are equally good, though by the time "Out of Reach"/"The Phantom Letters" roll in, the listener may be prone to losing interest. There's just this malaise that seeps into one's enthusiasm as the album progresses from one slow song to the next. Overlooking its boringness, however, "Glorious Collision" is a must to kickstart your enthusiasm for the next several months of fine albums.