Mean Streak-Declaration of War
Last Updated (Thursday, 03 March 2011 02:14) Written by Miguel Blardony Monday, 07 February 2011 00:29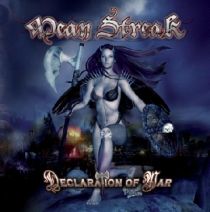 Release Date: January 27, 2011
Label: Black Lodge Records
Genre: Heavy Metal
Rating: 5/10
Comments: Heavy metal humbug.
Mean Streak have a fire in their hearts that compels them to deliver each offering as if it were a sacrifice upon the altar of metal. This explains why, along with likeminded crusaders Ram and Enforcer, they belong to the current rash of Scandinavian heavy metal bands. After the mildly successful "Metal Slave" debut that garnered no small amount of praise the Swedish quintet rekindle the same old magic for the sequel, "Declaration of War." The title no doubt reflects the band's attitude toward the call of true metal; Mean Streak are dedicated to defending the banner of trueness, hence the need to declare war and shit in metal's name so posers be warned. This writer actually found "Metal Slave" quite diverting and its erotic cover art (a bikini babe wielding an axe) a welcome change in scenery. The same applies to this new opus from Andy La Guerin and co. Decent stuff, no doubt, but there's a ton of bands lightyears better.
But don't worry. "Declaration of War" isn't as horrendous as implied, and will put joy into the lives of those who dig Running Wild, Crimson Glory, Dream Evil, WASP, plus the timeless oldies from 20-30 years ago. Problem is if your tastes lean more on the heftier and visceral, Mean Streak play the sonic equivalent of cat piss—bland lyrics married to plagiarized Iron Maiden twin guitars and some singer dude who sounds like Kai Hansen. To the ears of metalheads who'd settle for Bolt Thrower over Hammer Fall any day, Mean Streak are bad bad news. The bikini babe mascot is still around, so that's a plus. As for the music—ugh! Talk about the same stale cheese served with relish.
Sure, sure, Mean Streak are passionate for their craft, but it does get tiring past such generic ejaculations as "In For The Kill," "No Man's Land," or the dreadful metal anthem "Sons of Metal." In short, if metal that simply rounds the wheel is good enough for you, then by all means take a huge dose of Mean Streak. That bikini babe on the cover has potential though and this writer looks forward to many albums with her as the mascot. There really should be more chicks in metal, whether contributing to the music or being depicted in its imagery. Dragons and scythe-wielding ghouls are just gay.