Stratovarius-Elysium
Last Updated (Monday, 21 February 2011 19:14) Written by Miguel Blardony Monday, 07 February 2011 00:24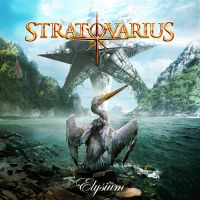 Release Date: January 12, 2011
Label: Armoury Records
Genre: Power Metal
Rating: 8/10
Comments: Mostly good with a couple of filler tracks thrown in.
A lot of people didn't like "Polaris." A lot of people thought it was awesome too. Perhaps the same is what awaits "Elysium," the latest from Finland's most enduring power metal group Stratovarius. Even if this is already their 13th album, the band's mojo is tighter than ever. The very good news is most of the songs on "Elysium" rip, epicness abounds, and even the weakest moments are palatable.
Power metal diehards are the ones who will get the most kick out of "Elysium" and for good reason; the songwriting is impeccable, the music lush and vibrant, the sheer power is electric. Never mind the clichés and the worrying awareness that Stratovarius sound so much like Revolution Renaissance and vice versa (thanks to Timo Kotipelto). "Elysium" is exactly that; a little slice of heaven for the fey and magic-inclined. Feyness and magic are indeed the prevailing ingredients for the glorious opening romp "Darkest Hours" and a mere dose of its four breathless musical minutes is proof enough that Stratovarius are in the finest shape they've ever been. The charm lasts until the album's most orgasmic offerings, namely "Fairness Justified" and the operatic "Lifetime in a Moment," which will echo in the listener's mind for all eternity—hey that's a nice album title right there, "for all eternity"!
Ballads seem to be the latest epidemic that's plaguing power metal and this writer has observed and suffered the art form in the last three years of power metal albums, from Doro to Gamma Ray. Ballads are also a complete waste of fucking time because when it comes to ballads the Scorpions and Deep Purple did 'em best. End of story and everyone is just trying. But alas, there's an awful ballad on Elysium which is actually quite bearable, laden with heartfelt emotion and genuine feeling. This is "Move the Mountain" whose softness really plucks all the right heart notes. "Elysium" pretty much ends with this song since what comes next sucks to an unbearable degree.
"Event Horizon" is based on that cult sci-fi horror flick from the 90s (highly recommended) and the immense title track that follows is a god awful mess, eating up a quarter of the album's running time. There, it has been writ: 'Elysium" shits its pants at the very end, just when you think Stratovarius have gotten it all down pat. Pants that have been shat on aside, it's a decent enough album.