Gus Drax-In Search of Perfection
Last Updated (Saturday, 12 June 2010 02:08) Written by Miguel Blardony Tuesday, 18 May 2010 12:28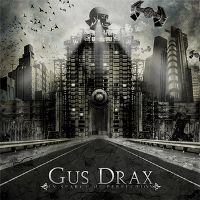 Release Date: April, 2010
Label: Self released
Genre: Instrumental
Rating: 9/10
Comments: A promising collection of fresh material from Biomechanical's resident guitar shredder.
Gus Drax got his first stab at greatness when he and two other guys (on drums and bass, respectively) joined Biomechanical frontman John K on his ambitious three part man-versus-machine album cycle. The band have lain low ever since their last release and in the meantime Gus has put together enough ideas for an all instrumental album that's supposed to showcase his guitar chops. Even if you've never listened to his work on Biomechanical, Gus disports himself with panache across the nine tracks occupying "In Search of Perfection." The man shreds in the mold of Michael Amott and the now-separated Nevermore guitar team (in fact, Steve Smyth joins the roster of session artists helping Gus out). Not to mention an obvious tutelage from the neoclassical masters Yngwie Malmsteen and the latter-day demigod Michael Romeo of Symphony X—and let's not forget prog metal's finest, John Petrucci. If you always admired the names mentioned so far, then go right ahead and sink your teeth into this impressive collection.
Opening track "Kiss Of Life" spares us useless ambient intros and goes straight for the throat with Gus' restrained fecundity on the ad lib department. Lucky for him, guys like producer John Simionis and bassist Vasilis Liakos provide a credible backdrop that allows him to unleash hell each time he burns up the fretboard. Even better, each track on the album comes together with a beginning, middle, and end. This means Gus is a songwriter to boot. While there's enough finger frenzy going on here, it's kept in a straightjacket of deft composition that leaves little space for useless soloing whose sole destination is Boredville. The weepy emotional syrup boiling on "In Loving Memory" marks a slight change in direction for Gus as he makes his guitar whine endless licks better suited for a Brian Adams power ballad. It's still good though, and by "Hourglass" the 22 year old wunderkind is giving power metal a run for its money. Surprise, surprise, by "1000 Nights" a funky bass line at the start paves the way for all the usual fireworks Gus has proven so adept at.
By "In the Presence of the Dead" Gus is still peddling grandeur and before curtain fall he's revisiting his Biomechanical roots on the synth laden "Abnormal Sequence" as a last hurrah until the final bow. No doubt about it, expect Gus Drax to be going places soon.